Is God a Scrooge?
by Berni Dymet
Rom. 8:31,32 What then are we to say about these things? If God is for us, who is against us? He who did not withhold his own Son, but gave him up for all of us, will he not with him also give us everything else?
Have you ever felt that God's holding back? Something we really want -the right marriage partner or a baby or moving on with something new in our lives. Whatever … and it's just not happening.
Sometimes - to be honest - I was starting to think - well, I wonder if God's being a bit of a Scrooge here? You know. 
Problem is - what happens is that everything else may be going fantastically well in our lives, except for this one thing and - so our focus narrows to just that one thing. We lose the big picture.
So - let's just stand back for a moment and take a look. You and I - we turned our backs on God. But He loves us so much; He didn't even withhold His Son as the price for bringing us back. Instead, He gave Him up for all of us - so how much more is He going to be generous with everything else?
So - with God on our side, who can possibly be against us?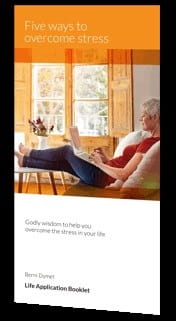 Your FREE eBooklet - "Five Ways to Overcome Stress"
The alleviation of stress is the number one felt need in society today. More than a half of all visits to the doctor are stress related. How about you? On a scale of zero to ten, how "stressed out" are you? There will always be pressures in life. That's a given. But stress is actually our response to those pressures and as such, it's something that, with God's help, we can overcome. That's what our latest Life Application Booklet is all about: Five Ways to Overcome Stress. We would absolutely love to send you your very own FREE copy to help you experience God's peace, in the middle of the pressures in your life.