The Great Illusionist 
by Berni Dymet
Col. 1:13,14 He has rescued us from the power of darkness and transferred us into the kingdom of his beloved Son, in whom we have redemption, the forgiveness of sins.
Many people struggle with temptation. Now we're all different and so our particular temptations are different too. They strike that the chinks in our armor - at our Achilles heal if you will. 
So strong can those temptations be - that we can easily get the impression that the devil's winning. That somehow he has a grip on us that no one can break.
Ever felt that? Well - it's a lie, plain and simple - because the devil is a great illusionist. With a slight of hand, he has us believing his lies, as though they were some great truth.
The simple truth is this - no matter what we've done - God's rescued us from the power of darkness and transferred us into the Kingdom of His Son - in whom we are saved and through whom we're forgiven.
Colossians Chapter 1, verses 13 and 14. It's a done deal. Jesus won and that victory is ours. He came to set us free - I mean really free.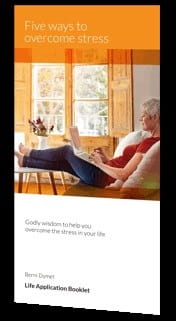 Your FREE eBooklet - "Five Ways to Overcome Stress"
The alleviation of stress is the number one felt need in society today. More than a half of all visits to the doctor are stress related. How about you? On a scale of zero to ten, how "stressed out" are you? There will always be pressures in life. That's a given. But stress is actually our response to those pressures and as such, it's something that, with God's help, we can overcome. That's what our latest Life Application Booklet is all about: Five Ways to Overcome Stress. We would absolutely love to send you your very own FREE copy to help you experience God's peace, in the middle of the pressures in your life.