Slow to Anger
by Berni Dymet
Psalm 86:15 But you, O Lord, are a God merciful and gracious, slow to anger and abounding in steadfast love and faithfulness.
Anyone who's been a dad knows what it's like when the kids don't do as they're told. It's so easy to fly off the handle - because the last things we need are the kids playing up, right?
And so - I kind of expected God to be like that to tell you the truth - ready to pounce on me the moment I put a foot wrong. Just waiting to jump on me. 
But … well, it wasn't what I expected. What I discovered is that God's a great Dad - He kind of gives me room to make mistakes - to learn from them - without jumping down my throat. In fact, the best way I've ever heard it described is that He's slow to anger. 
And His love's steadfast - rock solid. So when I've blundered and I get up and dust myself off - and go back to Him and say, Lord, dad - I got it wrong. What I discovered is this incredibly faithful God, rock solid despite my blunders.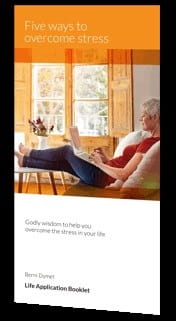 Your FREE eBooklet - "Five Ways to Overcome Stress"
The alleviation of stress is the number one felt need in society today. More than a half of all visits to the doctor are stress related. How about you? On a scale of zero to ten, how "stressed out" are you? There will always be pressures in life. That's a given. But stress is actually our response to those pressures and as such, it's something that, with God's help, we can overcome. That's what our latest Life Application Booklet is all about: Five Ways to Overcome Stress. We would absolutely love to send you your very own FREE copy to help you experience God's peace, in the middle of the pressures in your life.