A Father's Heart of Blessing
by Berni Dymet
Gen. 26:24 And that very night the LORD appeared to him and said, "I am the God of your father Abraham; do not be afraid, for I am with you and will bless you and make your offspring numerous for my servant Abraham's sake."
I've been a dad for a good many years now. And looking back on it - I've not always done such a brilliant job of that. Sadly - we dads aren't perfect. 
But as imperfect as I am - there's one thing that's never, ever changed in my heart. I've always wanted to bless my children - to give, to see them do well. It's just something that happens in a father's heart I guess.
So many people wonder what God's like - but one of the biggest things we find out about Him - in fact Jesus tells us this - is that He's our father. And if yours truly - as imperfect as I am - wants to bless his kids, then how much more then does God our Father want to bless us. 
The more I get to know God, my Father - the more I discover that, He knows me better than I can ever know myself. And He knows how to bless me in ways that I could never imagine. That's why God is my Dad.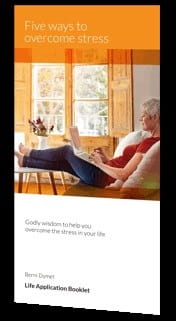 Your FREE eBooklet - "Five Ways to Overcome Stress"
The alleviation of stress is the number one felt need in society today. More than a half of all visits to the doctor are stress related. How about you? On a scale of zero to ten, how "stressed out" are you? There will always be pressures in life. That's a given. But stress is actually our response to those pressures and as such, it's something that, with God's help, we can overcome. That's what our latest Life Application Booklet is all about: Five Ways to Overcome Stress. We would absolutely love to send you your very own FREE copy to help you experience God's peace, in the middle of the pressures in your life.