The Power of Humility 
by Berni Dymet     
Prov. 29:23 A man's pride brings him low, but a man of lowly spirit gains honor.
We all know people who - to put it bluntly - are full of themselves. They throw their weight around and stomp over the top of people. And here's the thing - they do it under the delusion that somehow - this makes them better than everybody else. They believe this lie that everyone looks up to them and thinks, "Wow - isn't he great" or "Boy, isn't she fantastic."
But let me ask you something - when you've had to deal with someone who's proud and arrogant - full of themselves- what's been your reaction to them? Are they the ones you respect and look up to? I don't think so. They're the ones we try to avoid.
In a strange sort of a twist, the people we really respect … are the humble ones. The people who put themselves last. The one who walks into the room and instead of saying "Here I am", they look around and they say, "Ah - there you are."
They're the ones that we want to honor: The humble ones.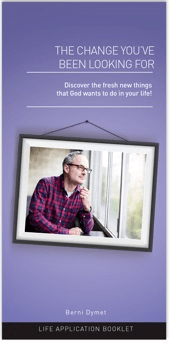 Your FREE eBooklet - "The Change You've Been Looking For"
So many people yearn for a better life, which is why "self-improvement" is a multi-billion dollar industry. But the truth is, it doesn't work, because the big changes, the truly important changes, are impossible to achieve on your own. That's why Jesus came. So if you want to lay hold of the "super-abundant" life that He promised (John 10:10) download this free eBooklet, because that's what it's all about. The change you've been looking for!