The Book and It's Cover
by Berni Dymet
1Sam. 16:7 But the LORD said to Samuel, "Do not look on his appearance or on the height of his stature, because I have rejected him; for the LORD does not see as mortals see; they look on the outward appearance, but the LORD looks on the heart."
I was given a book to review recently by a young author. The book was about his particular area of business expertise.

To be honest, I looked at it and it was totally uninspiring. The title kind of didn't mean much and it didn't tell me "what's in it for me?"

The cover design didn't inspire me either. But because I like this young man, I opened the book and skimmed through its pages.

You know something - it was good. I mean seriously good.

Now, while I passed on to him some tips about book cover design and titling, the biggest thing I learned was … I'm just like everyone else; I'm prone to judging a book, by it's cover.

And when we do that, we so often miss out on the good stuff inside.

I am so thankful that God didn't judge me by my cover - because it wasn't pretty. No - He looked inside and found something, albeit small, that He could work with.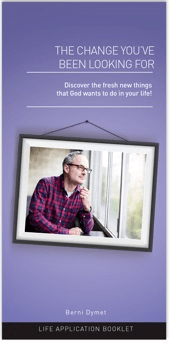 Your FREE eBooklet - "The Change You've Been Looking For"
So many people yearn for a better life, which is why "self-improvement" is a multi-billion dollar industry. But the truth is, it doesn't work, because the big changes, the truly important changes, are impossible to achieve on your own. That's why Jesus came. So if you want to lay hold of the "super-abundant" life that He promised (John 10:10) download this free eBooklet, because that's what it's all about. The change you've been looking for!