Big Bible
by Berni Dymet

Heb. 4:12 Indeed, the word of God is living and active, sharper than any two-edged sword, piercing until it divides soul from spirit, joints from marrow; it is able to judge the thoughts and intentions of the heart.

The Bible was such a turn off for me. Really. For starters - it's so big. I mean, who has the time these days… 775,000 words… in 31,173 verses… in 1,189 chapters in 66 books. And some of it is so dreary. You know, there's a genealogy in one Old Testament Book, 1 Chronicles that runs for nine chapters!

It's so easy to dismiss that thing they call … "The Bible".

But did you know that over half the books in the Bible you can read in less than half an hour?!

And when finally one day I opened it up - what I found was, well … words don't usually fail me … but words fail me.

It's alive. It's real. This isn't some pitch. This isn't spin. For the last fifteen years or so, most days - not every day, but most - I've read some small part.

And God just talks to me. He does. And it changed my life.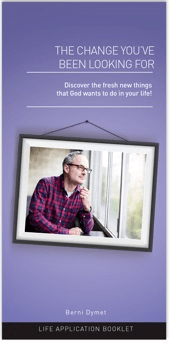 Your FREE eBooklet - "The Change You've Been Looking For"
So many people yearn for a better life, which is why "self-improvement" is a multi-billion dollar industry. But the truth is, it doesn't work, because the big changes, the truly important changes, are impossible to achieve on your own. That's why Jesus came. So if you want to lay hold of the "super-abundant" life that He promised (John 10:10) download this free eBooklet, because that's what it's all about. The change you've been looking for!