The Word of God
by Berni Dymet

Heb. 1:1,2 Long ago God spoke to our ancestors in many and various ways by the prophets, but in these last days he has spoken to us by a Son, whom he appointed heir of all things, through whom he also created the worlds.
I'm not sure exactly what I expected God to be like. Really. What's God like? What does He look like? Is He an old man with a big stick? Maybe … Is He into religion and church services and stuff? Who knows …
And then, then I stumbled across this Jesus: God's Son. Absolutely not at all what I expected. This man who tells it the way it is. Calls a spade a spade. Cuts through the hypocrisy, all the religious stuff - right to the heart of the matter.

This Jesus who railed against the religious hypocrisy of His day, and tended the wounds of the outcasts: the lepers, gave sight to the blind and called the little people into the presence of God.

And then - Jesus says to His disciples - You want to know what God looks like? Look at me. I am He.

And at that point, at that point I realized that God was nothing, absolutely nothing like what I expected Him to be.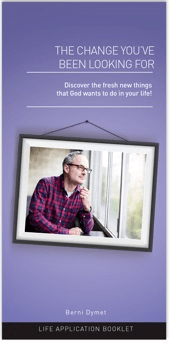 Your FREE eBooklet - "The Change You've Been Looking For"
So many people yearn for a better life, which is why "self-improvement" is a multi-billion dollar industry. But the truth is, it doesn't work, because the big changes, the truly important changes, are impossible to achieve on your own. That's why Jesus came. So if you want to lay hold of the "super-abundant" life that He promised (John 10:10) download this free eBooklet, because that's what it's all about. The change you've been looking for!