So Suddenly
by Berni Dymet
Matthew 24:44 Therefore you also must be ready, for the Son of Man is coming at an unexpected hour.
I was about to write the script for this short message and the phone rang. It was a friend of mine to let me know that another man, with whom I'd worked for many years, had just passed away.
Tom was just a couple of years older than me - had a heart attack without warning. It happened so suddenly. He was one of the most decent human beings that I've ever known. It happened so suddenly.
And that's the way it is. So often we have this plan and that dream. We'll get around to this and that when we have time.
But - it happens so suddenly.
I know that there is someone listening today, who plans on one day accepting Jesus Christ as their Lord and Saviour. It's just that - well, you haven't quite found the time. Yep, yep…I'll do it one day. One day I'll do that.
Problem is - one day, one day it may be too late. You see - it happens so suddenly.
Today is a good day. In fact, it's a perfect day. What about - today?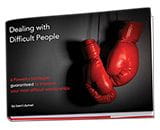 Get a Free eBook from Berni Dymet, Dealing with Difficult People. This timely and relevant eBook contains 6 powerful principles guaranteed to improve your most difficult relationships. And you can download it FREE, right now.