I Love You
by Berni Dymet
 
Psalm 100:2 Worship the LORD with gladness; come into his presence with singing.
Romance is wonderful; that first blossom of love. But how many people get married, get on with life and then, before they know it…it's gone. The flame burns dimmer and dimmer and if you let it, it goes out.
How many husbands walk past their wives in the kitchen without giving them a kiss and a hug? How many wives forget to tell their husbands, "I love you so much"?
And it's the same in our relationship with Jesus. We can let the flame go out because, well, just because.  When was the last time you sat down with God and said, "I love you so much? I just adore you Lord?"
For some it was today. For others - it was an eternity ago.  
"Jesus, I love you." You know what that's called? It's called worship. And let me tell you something - for anyone who's feeling guilty today about the depths to which this relationship has sunk - you start worshipping and you'll be amazed at how quickly it comes back.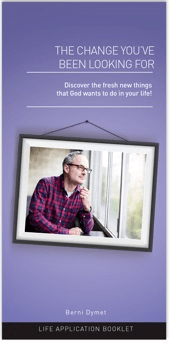 Your FREE eBooklet - "The Change You've Been Looking For"
So many people yearn for a better life, which is why "self-improvement" is a multi-billion dollar industry. But the truth is, it doesn't work, because the big changes, the truly important changes, are impossible to achieve on your own. That's why Jesus came. So if you want to lay hold of the "super-abundant" life that He promised (John 10:10) download this free eBooklet, because that's what it's all about. The change you've been looking for!