Once Upon a Time
by Berni Dymet
John 3:16 For God so loved the world that he gave his only Son, so that everyone who believes in him may not perish but may have eternal life.
The other morning, I received this e-mail that really tickled my fancy.
It was kind of like this folksy, little postcard - with an old lady and a little girl sitting on her lap. And the little girl says, "Granny, do all fairytales begin with 'Once Upon a Time?'"
"No darling" says the grandmother. "There's a whole series of them that begin 'If elected, I promise.' "
I guess we can all relate to that. Politicians soon discover that there's a big difference between the euphoria of the election campaign and the realities of delivering once they're elected. Delivering is hard work. There are a whole bunch of things and people and situations that conspire against us delivering.
You and I - we both know what it is to over promise and under deliver.
And maybe - at least for me - that's why it was so hard to comprehend that God delivered me His Son to give me eternal life.
I mean to look at this carpenter from Nazareth - well He promised so little, and yet He delivered so much.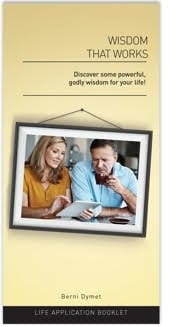 FREE Booklet - Wisdom that Works
Request your free copy of this latest Life Application Booklet from Berni Dymet, to help you grow in godly wisdom. The sort that helps you lay hold of the abundant life that Jesus came to give you. Don't miss out - available for a limited time only!