Kopkunkap
by Berni Dymet
Col. 3:15 And let the peace of Christ rule in your hearts, to which indeed you were called in the one body. And be thankful. I was in Thailand recently. And if you've ever had anything to do with the Thai people, you'll know that they are so gracious. It's part of who they are.
Now most of the staff at the hotel that I was staying at spoke pretty good English - certainly their English was a whole bunch better than my Thai. I decided that if I was going to learn just one word in Thai - I knew which one it had to be. I wanted to learn to say - thank you. I did: Kopkunkap.
That had to be the word - because I had so many occasions to thank these wonderful people. What you do is you put your hands together; you do a small bow and say Kopkunkap.
On the way home on the plane, I was thinking - wow - wouldn't it be amazing if I lived a life, so that if someone came to my shores and couldn't speak my language, the one word they'd want to learn, would be thank you. Wow! That would be amazing.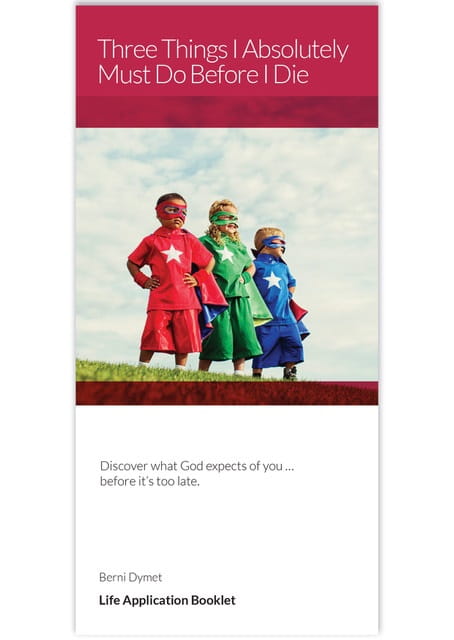 YOUR FREE BOOKLET – THREE THINGS I ABSOLUTELY MUST DO BEFORE I DIE
Here's a vital question for you to consider: If you died tonight, would you be ready for eternity? Now, many people know that it's all about having a simple faith in Jesus Christ. Nothing more, nothing less. But … do you have the sort of faith that Jesus talked about? To help you answer that question for sure, that's what our latest Life Application Booklet is all about: Three Things I Absolutely Must Do Before I Die. We would absolutely love to send you your very own FREE copy to help you make sure that you have the right answer, to the most important question of all.