Exhibit Number 850
by Berni Dymet
John 14:27 Peace I leave with you; my peace I give to you.
A few months ago I saw the weirdest thing on TV; these young people, sprinting through a cavernous chamber in a grand old art gallery in London. Every thirty seconds - a sprinter would race through so fast; you'd think their life depended on it.
Now they called this "art."
Well, the other day, I found myself during a spare hour or so at the Tate Gallery in London. And blow me down, if I'm not almost bowled over by a sprinter. 
I couldn't believe it - it was that thing I'd seen on TV. And all these months later - they were still running every thirty seconds. In fact, its art exhibit number 850.
I couldn't get over the fact that they were still sprinting - all these months later. Weren't they exhausted??
I don't know, I wonder whether we don't sometimes live our lives that way; running as though our lives depended on it.  And all along, Jesus is whispering "My peace I leave with you. My peace I give to you."
Hmm.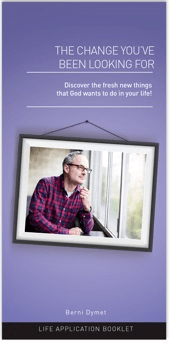 Your FREE eBooklet - "The Change You've Been Looking For"
So many people yearn for a better life, which is why "self-improvement" is a multi-billion dollar industry. But the truth is, it doesn't work, because the big changes, the truly important changes, are impossible to achieve on your own. That's why Jesus came. So if you want to lay hold of the "super-abundant" life that He promised (John 10:10) download this free eBooklet, because that's what it's all about. The change you've been looking for!