Little Lady
by Berni Dymet
Phil. 4:13 I can do all things through him who strengthens me.
I was on a train recently from the north of England down into London. The seating setup was like two people facing another two people with a table in between. 
I was telling my colleague sitting next to me how much better I felt the trains were in England compared to at home in Australia; which caused a young woman sitting opposite us to join in the conversation.
Now she was different. She was a dwarf. But from the moment she hopped on the train, there was something special about her; a quiet sense of confidence about who she was. Her makeup was beautifully done. She was well dressed. 
And as she spoke to my friend and to me, we discovered that she was a witty, charming individual. It would have been so easy for her to be self conscious about having to climb up onto the seat. But instead, she had this quiet confidence in who it was that God had made her to be.
She really was a blessing that day, a real blessing.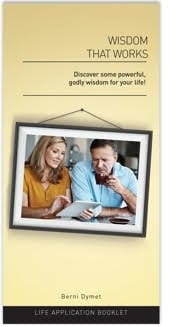 FREE Booklet - Wisdom that Works
Request your free copy of this latest Life Application Booklet from Berni Dymet, to help you grow in godly wisdom. The sort that helps you lay hold of the abundant life that Jesus came to give you. Don't miss out - available for a limited time only!