Closer Still
by Berni Dymet
Eph. 1:17 I pray that the God of our Lord Jesus Christ, the Father of glory, may give you a spirit of wisdom and revelation as you come to know him...
I was chatting with a couple of friends recently. And one of them, Tony, shared this with us. He said - "You know, every time I think that I'm as close to God as I can be, He takes me deeper - to a new level."
"I'm going through a tough time at the moment - and I realised I was praying about my finances and all the things that were stressing me out. And yet in the middle of it all, what I felt was Him tugging at my heart, drawing me closer to Him."
"And the closer He drew me, the more wisdom I had to deal with the issues. The closer He drew me, the more peace I had and the more joy I had."
"And there -right there in the middle of this mess, I discovered that God wanted to take me to a new level - not higher up.  Bit deeper.  Deeper in Him."
"I didn't realise that that's what I needed. But it's exactly, exactly what I needed."
I don't know - maybe Tony's onto something…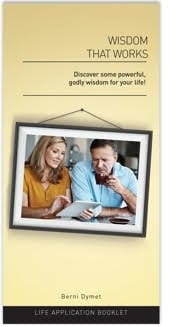 FREE Booklet - Wisdom that Works
Request your free copy of this latest Life Application Booklet from Berni Dymet, to help you grow in godly wisdom. The sort that helps you lay hold of the abundant life that Jesus came to give you. Don't miss out - available for a limited time only!