A Group of Men
by Berni Dymet 
2 Cor. 5:7 ...for we walk by faith, not by sight.  
A few nights ago, I had the opportunity to spend some time with a bunch of business men. Over a simple meal, we shared our lives and our stories. 
And as I sat and listened ….you know what struck me about these men? Their faith - it was real. It was vibrant. There was John - he owns a real estate company. "I'm in the ministry business" he said as he wrapped up a story about helping one of his staff through a deep hurt and struggle. 
And another one, Tim, he shared how God had called him to full time ministry, in his business. And you read their mission statement, and it speaks for itself. 
Sometimes, my hunch is we put our faith in a box and we leave it on the shelf and then head off to work. It's easy to do. 
For them though - they brought their faith to work with them. And my hunch is - that's why they were so vibrant in what they believed. You see, for them - Jesus is real.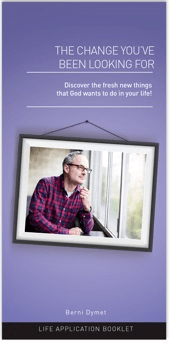 Your FREE eBooklet - "The Change You've Been Looking For"
So many people yearn for a better life, which is why "self-improvement" is a multi-billion dollar industry. But the truth is, it doesn't work, because the big changes, the truly important changes, are impossible to achieve on your own. That's why Jesus came. So if you want to lay hold of the "super-abundant" life that He promised (John 10:10) download this free eBooklet, because that's what it's all about. The change you've been looking for!