Cleanse the Temple
by Berni Dymet

John 2:15 Making a whip of cords, he drove all of them out of the temple, both the sheep and the cattle. He also poured out the coins of the money-changers and overturned their tables.
It's easy to think of Jesus as a stained glass window. You know, a nice, safe, comforting, reassuring religious…icon. Jesus: the insurance policy. My hunch is though, if we met Him face to face - we might be shocked.
He walks into the Temple in Jerusalem and instead of this being God's house - He sees people are doing business; selling cattle, sheep and doves - exchanging money. And so he makes a whip - makes one - this is premeditated - and then with this whip He drives the traders out of the temple.
He upturns their tables. He pours their money out onto the ground. He rages at them. Hmm - this is hardly the image of a loving, comforting God.
Now Jesus, He showed a lot of love and compassion around the place. But when faith was perverted - He raged. And if those of us who consider ourselves… pious or religious - if we're a little unsettled by this Jesus raging through the House of God, this Jesus who railed against religious hypocrisy…if we're upset, my hunch is…we should be.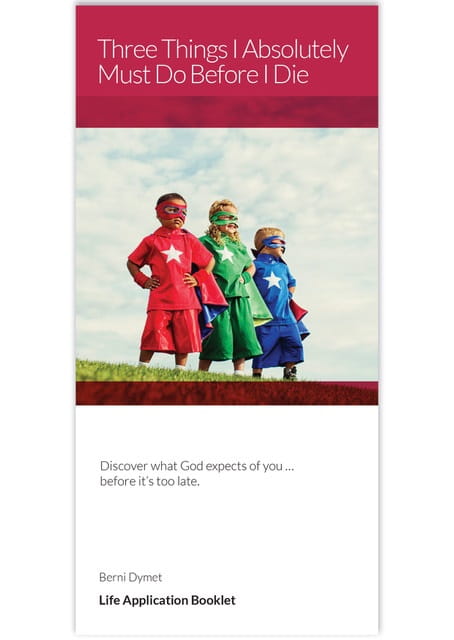 YOUR FREE BOOKLET – THREE THINGS I ABSOLUTELY MUST DO BEFORE I DIE
Here's a vital question for you to consider: If you died tonight, would you be ready for eternity? Now, many people know that it's all about having a simple faith in Jesus Christ. Nothing more, nothing less. But … do you have the sort of faith that Jesus talked about? To help you answer that question for sure, that's what our latest Life Application Booklet is all about: Three Things I Absolutely Must Do Before I Die. We would absolutely love to send you your very own FREE copy to help you make sure that you have the right answer, to the most important question of all.