Cleanse the Temple
by Berni Dymet
 
John 2:15 Making a whip of cords, he drove all of them out of the temple, both the sheep and the cattle. He also poured out the coins of the money-changers and overturned their tables.
It's easy to think of Jesus as a stained glass window. You know, a nice, safe, comforting, reassuring religious…icon. Jesus: the insurance policy. My hunch is though, if we met Him face to face - we might be shocked.
He walks into the Temple in Jerusalem and instead of this being God's house - He sees people are doing business; selling cattle, sheep and doves - exchanging money. And so he makes a whip - makes one - this is premeditated - and then with this whip He drives the traders out of the temple.
He upturns their tables. He pours their money out onto the ground. He rages at them. Hmm - this is hardly the image of a loving, comforting God.
Now Jesus, He showed a lot of love and compassion around the place. But when faith was perverted - He raged. And if those of us who consider ourselves… pious or religious - if we're a little unsettled by this Jesus raging through the House of God, this Jesus who railed against religious hypocrisy…if we're upset, my hunch is…we should be.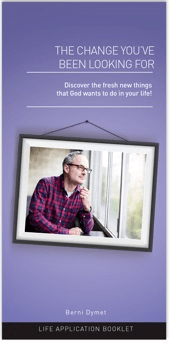 Your FREE eBooklet - "The Change You've Been Looking For"
So many people yearn for a better life, which is why "self-improvement" is a multi-billion dollar industry. But the truth is, it doesn't work, because the big changes, the truly important changes, are impossible to achieve on your own. That's why Jesus came. So if you want to lay hold of the "super-abundant" life that He promised (John 10:10) download this free eBooklet, because that's what it's all about. The change you've been looking for!