Be Strong 
by Berni Dymet
Joshua 1:9 I hereby command you: Be strong and courageous; do not be frightened or dismayed, for the Lord your God is with you wherever you go.
You know, sometimes, we can believe in God, but we feel so weak, so powerless. We look around - and everybody else seems to have their acts together. They look happy and normal and so we put on a face, but inside, inside, we're afraid. And the worst bit is, you can't talk to anybody about it. 
I did a search through the Bible using the software I have on my PC on the phrase "do not be afraid"  You know how many times it pops up - 65 times.
That tells me something. Sometimes what's going on in the inside is so different to what we show people on the outside. Doesn't matter who we are, or how we look, some days life is tough. 
This is what God had to say to one of His servants, Joshua, who had a huge job ahead of Him - God said "Be strong and courageous, don't be frightened, don't be dismayed, because I, the Lord your God, I'll be with you wherever you go."
Hmm. That's worth thinking about.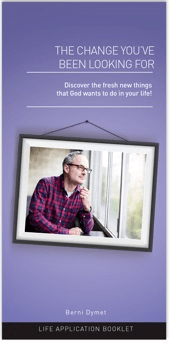 Your FREE eBooklet - "The Change You've Been Looking For"
So many people yearn for a better life, which is why "self-improvement" is a multi-billion dollar industry. But the truth is, it doesn't work, because the big changes, the truly important changes, are impossible to achieve on your own. That's why Jesus came. So if you want to lay hold of the "super-abundant" life that He promised (John 10:10) download this free eBooklet, because that's what it's all about. The change you've been looking for!