A Burning Question
by Berni Dymet 
2 Chr 1:10-12 Give me now wisdom and knowledge to go out and come in before this people... God answered Solomon, "Because this was in your heart ... but have asked for wisdom and knowledge for yourself ... wisdom and knowledge are granted to you.
Can I give you a question to ponder in your heart?  
When you close your eyes and shut off the rest of the world - you know, all the noise and clamor and pressures - all that stuff - you just close your eyes and you think to yourself - if I could have anything I wanted, what would that be? Anything.  
Now, if you were to stop and think and answer that question in your heart - honestly, in a considered way, how would you answer it?
It's important. Because it tells us what's driving our lives. Is it money, or recognition, or that promotion? Or maybe that toy you just saw advertised on the TV.
A few years ago now - I asked myself that question. And I decided that I wanted a pure, sweet life. A life that counted a life that made a difference and a life so wondrous that I'd want it to go on forever.
It's the life that I have now. Now and forever.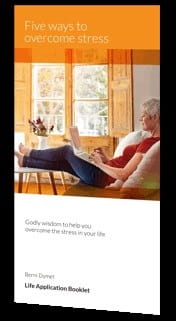 Your FREE eBooklet - "Five Ways to Overcome Stress"
The alleviation of stress is the number one felt need in society today. More than a half of all visits to the doctor are stress related. How about you? On a scale of zero to ten, how "stressed out" are you? There will always be pressures in life. That's a given. But stress is actually our response to those pressures and as such, it's something that, with God's help, we can overcome. That's what our latest Life Application Booklet is all about: Five Ways to Overcome Stress. We would absolutely love to send you your very own FREE copy to help you experience God's peace, in the middle of the pressures in your life.