The Blah, Blah, Blah Treatment
by Berni Dymet
Mark 1:22 They were astounded at his teaching, for he taught them as one having authority, and not as the scribes.
I remember being dragged along to church when I was growing up. Hard pews. Sitting still for an hour. A whole hour! Can you believe that?! And then the sermon - this guy just droned on.At least, that's how it seemed to a child. 
He may as well just have been saying blah, blah, blah….for all the good it did me. And I guess I'm not alone here - and as an adult, those memories clouded my understanding of who God is.
Early on, Jesus walked into a synagogue in Capernaum and he started teaching. And the people were astounded - because He taught them with an amazing sense of authority - not the way they'd been used to from their other teachers.
You know why I think that is? Because He was speaking the very Word of God. And when God speaks - there's a ring of authenticity - you can pick it. It's clear as a bell. God's a talker. And He hasn't stopped talking….His voice still rings clear as a bell.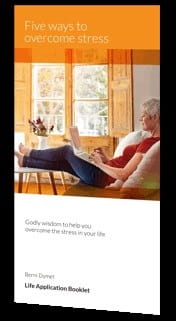 Your FREE eBooklet - "Five Ways to Overcome Stress"
The alleviation of stress is the number one felt need in society today. More than a half of all visits to the doctor are stress related. How about you? On a scale of zero to ten, how "stressed out" are you? There will always be pressures in life. That's a given. But stress is actually our response to those pressures and as such, it's something that, with God's help, we can overcome. That's what our latest Life Application Booklet is all about: Five Ways to Overcome Stress. We would absolutely love to send you your very own FREE copy to help you experience God's peace, in the middle of the pressures in your life.