Dog Tired
by Berni Dymet
Matt. 11:28 "Come to me, all you that are weary and are carrying heavy burdens, and I will give you rest."
We live in a world where there are so many people who are working themselves into the ground. People seem so busy….and exhausted.
Overwork? Hmm - I'm a reforming workaholic from way back. I don't know there seem to be so many things to do. E-mails and meetings and plans and to-do lists.... 
I have enough on my to-do list to keep me going 24 by 7. And I'm not alone.
But there comes a time when we have to say enough is enough. 
I'm a very early starter. Always have been 5 am usually. But I've decided to draw the line.  I turn my mobile off in the afternoon when my wife and daughter get home. I don't check my e-mails at night anymore….and sometimes people just have to wait for their e-mail responses.
Jesus said come to me all you who are carrying heavy burdens and I will give you rest.
That's a great invitation. But we have to decide to respond. It's up to us to make a decision to draw the line and say, enough is enough.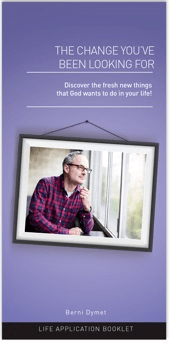 Your FREE eBooklet - "The Change You've Been Looking For"
So many people yearn for a better life, which is why "self-improvement" is a multi-billion dollar industry. But the truth is, it doesn't work, because the big changes, the truly important changes, are impossible to achieve on your own. That's why Jesus came. So if you want to lay hold of the "super-abundant" life that He promised (John 10:10) download this free eBooklet, because that's what it's all about. The change you've been looking for!