Oh My God
by Berni Dymet
Exodus 20:7 You shall not make wrongful use of the name of the LORD your God, for the LORD will not acquit anyone who misuses his name.
Have you ever watched those room-makeover or garden-makeover shows on TV? You know, people hand their homes over to some magical makeover squad and in just eight hours - they work miracles. And then the owners come back…..and see the makeover.
And what do they say? "Oh my God! Oh my God! Oh my God!"
Hmm. I used to be an "Oh My Godder" too. And a Jesus Christ-er!
And then one day - on a dark day, a day when I was hurting, and a day when the world had come crashing down - this Jesus walked into my life.
He healed my broken heart. He set me free from all the things that held me captive. Where I was blind - He gave me sight. Where the news was bad - He brought good news. He spoke to me of God's favor.
It took a bit longer than eight hours. But if you'd seen me beforehand, you'd understand why.
This was a makeover of - of my soul. Jesus. Oh my God.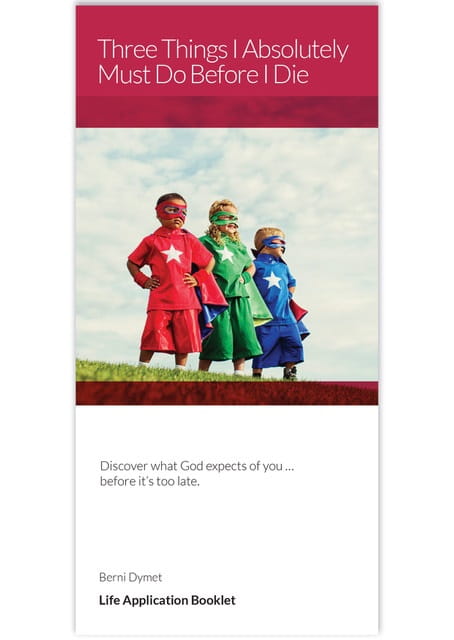 YOUR FREE BOOKLET – THREE THINGS I ABSOLUTELY MUST DO BEFORE I DIE
Here's a vital question for you to consider: If you died tonight, would you be ready for eternity? Now, many people know that it's all about having a simple faith in Jesus Christ. Nothing more, nothing less. But … do you have the sort of faith that Jesus talked about? To help you answer that question for sure, that's what our latest Life Application Booklet is all about: Three Things I Absolutely Must Do Before I Die. We would absolutely love to send you your very own FREE copy to help you make sure that you have the right answer, to the most important question of all.