The Joy of Overflowing
by Berni Dymet
Esther 10:3 For Mordecai the Jew was next in rank to King Ahasuerus, and he was powerful among the Jews and popular with his many kindred, for he sought the good of his people and interceded for the welfare of all his descendants.
I love to see other people doing what God made them to do. Being who God made them to be. 
It's awesome when they excel at that. A brilliant musician or sports person, someone who's great at caring for other people or someone who can just lead an organization and somehow make it sing.
It never ceases to amaze me how different we all are and when someone discovers their gig - whatever that is - what a wondrous thing it is to behold.
It leaves me in awe of God; His grace - to let us have gifts like that, His imagination and His plan - to bless each one us through those other people.
Sometimes we get all silly and we compare ourselves to other people - "Oh, I can't do that." Of course we can't!  It's not what God made us to do. 
He made us to be - well, you and I - to do and to excel at whatever He's gifted us deep in our DNA.
Can I ask you - how are you living your life?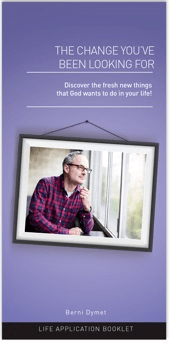 Your FREE eBooklet - "The Change You've Been Looking For"
So many people yearn for a better life, which is why "self-improvement" is a multi-billion dollar industry. But the truth is, it doesn't work, because the big changes, the truly important changes, are impossible to achieve on your own. That's why Jesus came. So if you want to lay hold of the "super-abundant" life that He promised (John 10:10) download this free eBooklet, because that's what it's all about. The change you've been looking for!