The Cost of Love
by Berni Dymet
I John 3:16 We know love by this, that he laid down his life for us—and we ought to lay down our lives for one another.
Jesus the more I get to know you, well, I'm starting to believe that what you're all about is love.
I was reading how you healed that leper. And, and how you stood up for that prostitute. And I thought - wow.  That's love. But loving other people is so hard for me.
I don't find love easy…..and you know what, I think it's because love costs. And….well, when it costs, it doesn't feel like what I thought love was supposed to feel like.
And then, then I read about how they crucified you……and I cried. I couldn't help it. I just sat there and sobbed. For the very first time, it struck me how much you love me.
And how much it cost you.
And somewhere deep in my heart of hearts, I want to be like you. I want to learn to love people the way you love me. And I know it's going to cost. And that scares me to death.
But- I just want to love like you...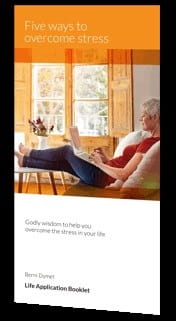 Your FREE eBooklet - "Five Ways to Overcome Stress"
The alleviation of stress is the number one felt need in society today. More than a half of all visits to the doctor are stress related. How about you? On a scale of zero to ten, how "stressed out" are you? There will always be pressures in life. That's a given. But stress is actually our response to those pressures and as such, it's something that, with God's help, we can overcome. That's what our latest Life Application Booklet is all about: Five Ways to Overcome Stress. We would absolutely love to send you your very own FREE copy to help you experience God's peace, in the middle of the pressures in your life.