Long and Winding Road
by Berni Dymet
Psalm 40:1 I waited patiently for the LORD; he inclined to me and heard my cry.
Patience is not something that comes naturally to me. I want things to happen - and I want them to happen now!
It's the same when it comes to my relationship with God. Well, God - if you're going to promise me stuff - I want it now. I was devastated when I read that bit in the Bible - a thousand years is like a day to God!
NO! You don't understand! God you promise all sorts of stuff - I want it NOW!!!!
I'm praying about this person's health - or that relationship - or this financial need - or that feeling of this fear or….whatever it is. OK - I prayed about it - it's been five minutes. It's time to go God!
What I've discovered is He doesn't work that way. Often - it's a long and winding road - and not everything along the way makes sense all the time.
And it's not until we look back that we can see the mighty hand of God - guiding us, holding us, leading us - on each step of the way.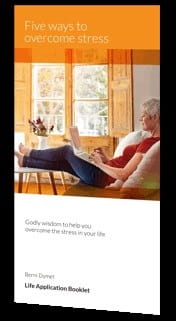 Your FREE eBooklet - "Five Ways to Overcome Stress"
The alleviation of stress is the number one felt need in society today. More than a half of all visits to the doctor are stress related. How about you? On a scale of zero to ten, how "stressed out" are you? There will always be pressures in life. That's a given. But stress is actually our response to those pressures and as such, it's something that, with God's help, we can overcome. That's what our latest Life Application Booklet is all about: Five Ways to Overcome Stress. We would absolutely love to send you your very own FREE copy to help you experience God's peace, in the middle of the pressures in your life.