Long and Winding Road
by Berni Dymet
Psalm 40:1 I waited patiently for the LORD; he inclined to me and heard my cry.
Patience is not something that comes naturally to me. I want things to happen - and I want them to happen now!
It's the same when it comes to my relationship with God. Well, God - if you're going to promise me stuff - I want it now. I was devastated when I read that bit in the Bible - a thousand years is like a day to God!
NO! You don't understand! God you promise all sorts of stuff - I want it NOW!!!!
I'm praying about this person's health - or that relationship - or this financial need - or that feeling of this fear or….whatever it is. OK - I prayed about it - it's been five minutes. It's time to go God!
What I've discovered is He doesn't work that way. Often - it's a long and winding road - and not everything along the way makes sense all the time.
And it's not until we look back that we can see the mighty hand of God - guiding us, holding us, leading us - on each step of the way.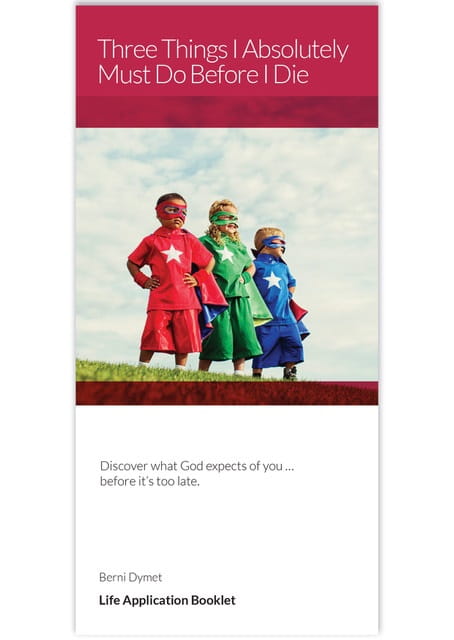 YOUR FREE BOOKLET – THREE THINGS I ABSOLUTELY MUST DO BEFORE I DIE
Here's a vital question for you to consider: If you died tonight, would you be ready for eternity? Now, many people know that it's all about having a simple faith in Jesus Christ. Nothing more, nothing less. But … do you have the sort of faith that Jesus talked about? To help you answer that question for sure, that's what our latest Life Application Booklet is all about: Three Things I Absolutely Must Do Before I Die. We would absolutely love to send you your very own FREE copy to help you make sure that you have the right answer, to the most important question of all.