O'Hare Airport
by Berni Dymet
Matt. 8:2-3 "Lord, if you choose, you can make me clean." He stretched out his hand and touched him, saying, "I do choose. Be made clean!" Immediately his leprosy was cleansed.
I was recently in Chicago - which one of my favorite cities on the planet.
But O'Hare Airport - I tell you, it's something I don't enjoy. The place is so big and so busy - it's like a city in itself. In fact it pumps billions of dollars into Chicago's economy each year.
There are so many people being processed through airline and security queues, and rushing to make flights. The sheer volume means that the staff just have to rush and process you. No time to smile.
I was checking in for my flight, and now instead of people they have touch screens and passport scanners.  I couldn't figure out how to work this thing - but the staff were all too busy to help.
And then one of them, she saw me struggling, she came over, and smiled and helped. She stood out from the crowd.
It's a bit like when Jesus reached out and healed the leper. When we reach out and touch someone, I tell you, we stand out from the crowd.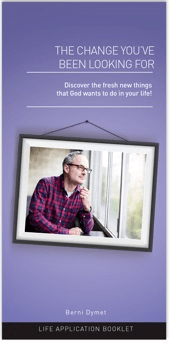 Your FREE eBooklet - "The Change You've Been Looking For"
So many people yearn for a better life, which is why "self-improvement" is a multi-billion dollar industry. But the truth is, it doesn't work, because the big changes, the truly important changes, are impossible to achieve on your own. That's why Jesus came. So if you want to lay hold of the "super-abundant" life that He promised (John 10:10) download this free eBooklet, because that's what it's all about. The change you've been looking for!