Low Self Esteem
by Berni Dymet
Gal. 2:20 and it is no longer I who live, but it is Christ who lives in me. And the life I now live in the flesh I live by faith in the Son of God, who loved me and gave himself for me.
Last night, I spent a few hours with some students at a Bible College where I teach. We had a tutorial. Their assignment was to look at someone's life, someone who they knew who seemed to be having real problems - and just come and talk about those problems in the tutorial.
You know something - as each student spoke about a friend or a family member - it just came back to the same thing again and again.
Each of these people had a sense of worthlessness. Each one! I was blown away. You see we live in a society where the advertising industry conditions us to believe that we - you and I are at the centre of the universe! It's all about me!
Well - that's working incredibly well then, isn't it?!
You know how we know what we're really worth? You look at Jesus hanging on that cross. He died - for you and me. What does God think we're worth?
The life of His only Son. Jesus.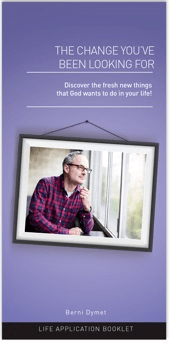 Your FREE eBooklet - "The Change You've Been Looking For"
So many people yearn for a better life, which is why "self-improvement" is a multi-billion dollar industry. But the truth is, it doesn't work, because the big changes, the truly important changes, are impossible to achieve on your own. That's why Jesus came. So if you want to lay hold of the "super-abundant" life that He promised (John 10:10) download this free eBooklet, because that's what it's all about. The change you've been looking for!