Dealing with Menopause
by Berni Dymet
John 15:13 No one has greater love than this, to lay down one's life for one's friends.
A few years ago, I was involved in a tutorial session at a Bible College where I was teaching - we were dealing with pain and suffering.
And one man shared with us the pain that he'd travelled through over the last few year, as his wife travelled through the emotional ups and downs of menopause. It wasn't easy for him to share that.
Now this man in the world's eyes is no superstar. He doesn't look to be much on the outside. He's not an eloquent speaker or writer or academic. But in this world of disposable relationships, marriages that are thrown away like the crumpled, empty wrapper of a hamburger, in my eyes, this man is a hero.
Given all that he'd had to travel through, how easy would it have been for him to look after number one? How easy would it have been to walk out?
Jesus said - no greater love has any many than to lay down his life for a friend.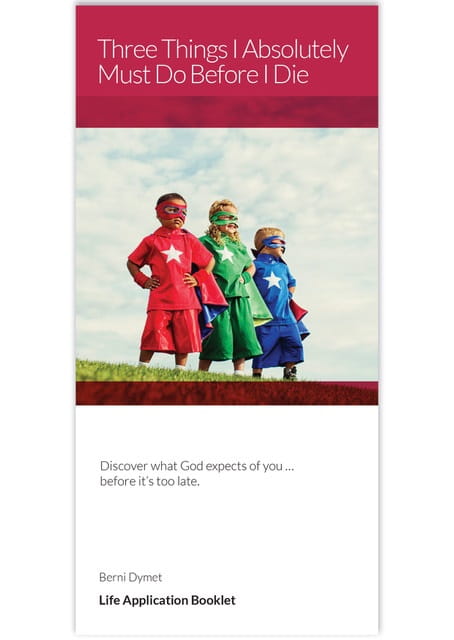 YOUR FREE BOOKLET – THREE THINGS I ABSOLUTELY MUST DO BEFORE I DIE
Here's a vital question for you to consider: If you died tonight, would you be ready for eternity? Now, many people know that it's all about having a simple faith in Jesus Christ. Nothing more, nothing less. But … do you have the sort of faith that Jesus talked about? To help you answer that question for sure, that's what our latest Life Application Booklet is all about: Three Things I Absolutely Must Do Before I Die. We would absolutely love to send you your very own FREE copy to help you make sure that you have the right answer, to the most important question of all.