August 8
… the Lord knows how to rescue the godly from temptation …
2 Peter 2:9
The little girl pled with her brother and sister to jump from the second floor of their burning home. "Fear kept the youngsters from following her and cost them their lives," a newspaper reported. If we're caught in the conflagration of temptation, perhaps we've refused rescue. The children in the burning house were afraid to leap, but sometimes we reject God's rescue because we're reluctant to give up pleasures the temptation offers. There was no need for the children to perish in the fire, and there is never a need for God's covenant people to be trapped in temptation, because His rescue is always available.
"Afraid to jump to safety, 2 children perish in fire," By John J. O'Brien, Staten Island Advance, December 11, 2005.
Click here to sign up for your free Winning Walk newsletter!
OUR THANK YOU TO YOU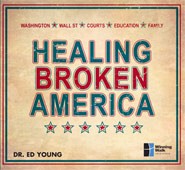 Healing Broken America
CD Series