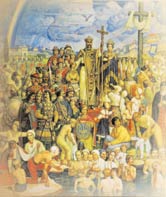 At Christmas time "Manger Square" in Bethlehem is thronged with pilgrims coming to worship at the Church of the Nativity. At Easter, Christians follow the Via Dolorosa to the Church of the Holy Sepulcher in Jerusalem. Both of these ancient churches in the Holy Land are intimately connected with Empress Helena, mother of the first Christian emperor, Constantine (274-337).
Much of Helena's life and history is obscure or unknown, including the date and place of her birth. Some theorize that since the emperor Constantine later named a town in Asia Minor Helenopolis in her honor, she was born there, the daughter of an innkeeper.
order back issues of this story
Unclear too is when Helena met the Roman soldier Constantius Chlorus, or even if the two were ever officially married. What is certain is that Constantius and Helena were Constantine's parents. When Constantius became Caesar of Gaul, Spain, and Britain in 292, he divorced Helena in order to marry Theodora, daughter of his patron Maximian. It was an obvious and cold political move designed to promote Constantius' career.
Helena's son Constantine spent much time at the court of the emperor Diocletian and became a soldier like his father. When his troops later proclaimed Constantine emperor in 306, one of his first acts was to call his mother from political exile and give her honors befitting the mother of the Roman Emperor. When Constantine embraced Christianity, Helena gave her strong support and encouragement.
All was not peace and prosperity at the imperial court, however. For reasons shrouded in darkness and uncertainty, in 326 Constantine had his oldest son Crispus and his wife Fausta executed. He later was apparently plagued with guilt, and Helena possibly convinced him of his error and sin. This sense of sin and need for repentance might have caused Constantine to send Helena on her mission to the Holy Land.
When almost eighty years old, Helena traveled throughout Palestine and the eastern imperial provinces, encouraging the establishment and spread of the Christian faith. In Palestine she sought out the original locations associated with the life of Jesus, and she oversaw the construction of churches Constantine had ordered built at such sites--Bethlehem, Calvary, Olivet, Bethany. A pagan temple to Aphrodite had been built on the tomb site of Jesus' resurrection; it was torn down and replaced by the Church of the Holy Sepulcher. Later legends arose that Helena also discovered the actual cross of Christ in the tomb beneath the church. Helena's tour became a pattern for Christian pilgrims throughout the Middle Ages and into our own day as she sought to discover and honor the places where Jesus had lived.
The British have an ancient tradition that Helena was the daughter of King Coel of Colchester (later immortalized in Mother Goose's "Old King Cole, the merry Old Soul." If this story is true, Emperor Constantine is grandson of a Mother Goose hero!). There was a Christian church at Colchester in 250 AD, about the time Helena was born, and it is possible she became a Christian as a young person.
DISTANT DATELINE: Good King Wenceslaus Murdered by Brother!
BOHEMIA, 929 AD. The kingdom of Bohemia is in turmoil as the news of Prince Boleslav's wretched deed spreads throughout the land--King Wenceslaus murdered by his own brother at the doorway of the church!
As the blessed King Wenceslaus toured his Bohemian lands, visiting the many churches he had established, Prince Boleslav invited his brother to his own castle. After an evening of joyous feasting, the brothers retired. Wenceslaus rose early to worship, as was his custom. Eyewitnesses report he greeted his brother at the church entrance, saying, "Good health, dear brother! We owe you many thanks for your kindness because you served us yesterday so honestly, lavishly, and joyfully." Boleslav maliciously replied, "And you arrange an even better feast today." With that, Boleslav pulled out his sword and struck Wenceslaus on the head. The blow only glanced him, and Wenceslaus threw Boleslav to the ground. Boleslav's henchmen soon rushed against the king and helped overpower and slay the king. The king died with his Lord's words on his lips, "Lord, into Thy hands I commend my spirit."
It is difficult to imagine a king more just, God-fearing and Christ-loving than Wenceslaus. From a youth he helped the needy, orphans, and widows. As king, Wenceslaus has worked against the pagan forces in the country, establishing churches throughout the land and building the beautiful church of St. Vitus in Prague.
Now many of his supporters have either been killed in the recent mayhem or have fled the kingdom. The loss is incalculable.
---
Originally published April 28, 2010.