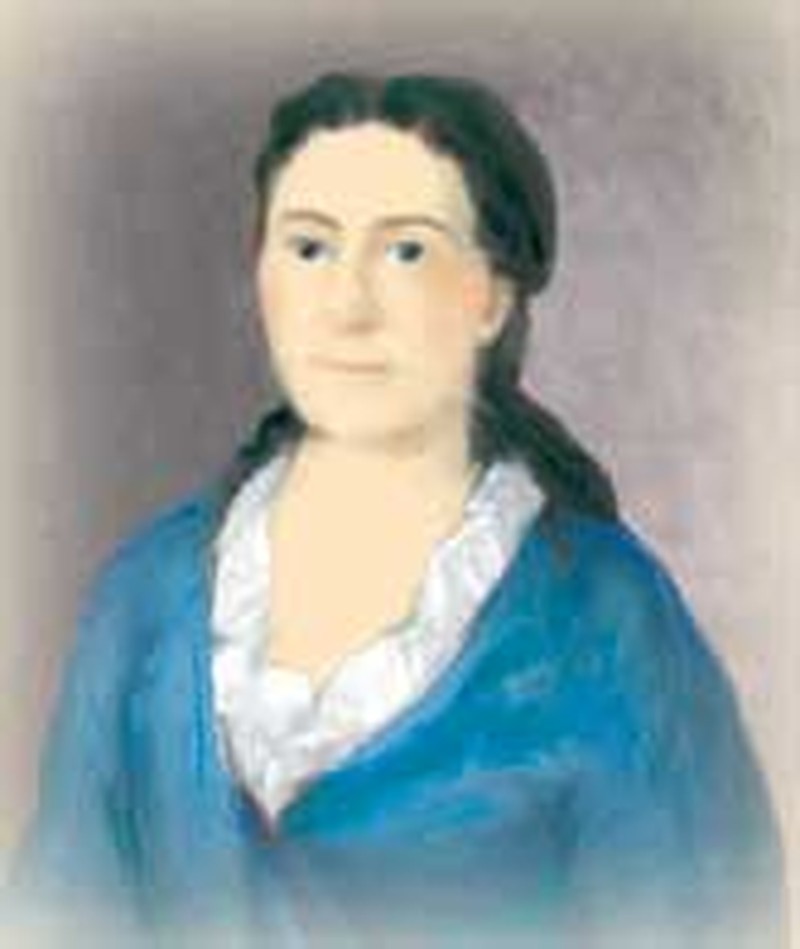 Jonathan Edwards was first attracted to thirteen-year-old Sarah Pierpoint because he saw in her an extraordinary cheerfulness and a deeper than usual faith in God. Many smooth and handsome young men courted Sarah, but it was gangly, moody Jonathan, with his prayerful ways and deep love of God, who won her. He made her feel as if what she thought was important to him. They married on this day, July 20, 1727. She was seventeen, he was 23.
Their marriage, which lasted over thirty years, was a happy one. Much of that was owing to Sarah, who managed the home--and her scholarly husband--efficiently. Sarah worked hard to rear godly children, dealing immediately with sin when it showed itself. She bore eleven, ten of whom lived to adulthood. Jonathan also gave an hour a day to play and conversation with his children.
The many people who visited the home were impressed by the peace which flourished in the home. There was none of the quarreling or coldness so common in other homes. Husband and wife supported and admired each other. They prayed daily together. Evangelist George Whitefield, after spending a few days in the calm, happy Edwards home, was so impressed that he determined to get married himself. "A sweeter couple I have not yet seen," he enthused.
Jonathan himself saw home life as a living lesson in faith. In his sermon, "The Church's Marriage to Her Sons and to Her God," he reminded his listeners of the importance of marriage. "Of all the various kinds of union of sensible and temporal things that are used in Scripture to represent the relation there is between Christ and his church; that which is between bridegroom and bride, or husband and wife, is much more frequently made use of both in the Old and New Testament. The Holy Ghost seems to take a particular delight in this, as a similitude [likeness] fit to represent the strict, intimate, and blessed union that is between Christ and his saints."
The Edwards suffered their share of criticism. Although Sarah was not wasteful, she had expensive tastes, especially in dresses and dishes. Jonathan came under a cloud of anger when he refused to admit just anyone to communion. The last years of the couple's lives were lived in turmoil and poverty.
Jonathan had just accepted the presidency of Princeton when he contracted smallpox. On his death bed, his last thoughts were of Sarah. "...give my kindest leave to my dear wife and tell her that the uncommon union which has so long existed between us has been of such a nature as I trust is spiritual and therefore will continue forever; and I hope she will be supported under so great a trial and submit cheerfully to the will of God." he said. Sarah and he had just lost a daughter and son-in-law. Sarah fell ill of dysentery while on a visit to collect her grandchildren to raise with her own younger children. Just six months after Jonathan's death, she joined him in the grave.
Bibliography:
Cook, Emily. "Sarah Edwards." http://www.hillsdale.edu/dept/Phil&Rel/ JE/EdwardsS/CookE.html
Kirk, Hilary. "Jonathan Edwards, Images of Marriage." http://www.hillsdale.edu/dept/Phil&Rel/ JE/Papers/98/KirkH.html
Morrison, Sara. "Sarah Edwards; Gentle Joyful Servant." http://www.hillsdale.edu/dept/Phil&Rel/ JE/EdwardsS/MorrisonS.html
Petersen, William J. Martin Luther Had a Wife/Harriet Beecher Stowe Had a Husband. Wheaton: Tyndale House, 1983.
Van Buren, Camille. "The 'Uncommon' Sarah Edwards." http://www.hillsdale.edu/dept/Phil&Rel/ JE/EdwardsS/VanBurenC.html
Last updated July, 2007.