Editor's Note: In April of 2007, Crosswalk ran a series of articles on modesty by Carolyn Mahaney and her three grown daughters Kristin, Nicole and Janelle. Spring 2010 is here, and with each new fashion cycle, questions about modesty continue to crop up. So we've resurrected this series in hopes that it will once again be a helpful guide for women and girls. All articles were modified from entries on the blog, "GirlTalk: Conversations on Biblical Womanhood and Other Fun Stuff."
A few years ago, CJ and I had the privilege of going to a church where CJ spoke on the topic of modesty. At the conclusion of my husband's sermon, the church's worship pastor, Todd Murray, presented an additional appeal in his closing remarks. He urged all girls to consider modesty even when shopping for formal attire and wedding dresses. His words were laden with care and compassion, yet they carried an appropriate soberness. We felt Todd's exhortation was too important to be heard only by the girls of his church, so we asked if we could post his words here. He graciously agreed. Let's listen in and be challenged by one pastor's heart and plea to the women of his church:
Ladies, please don't forget to apply these principles of modesty to formal events and weddings. In recent years, I have become increasingly grieved by the immodest dresses of both brides and bridesmaids at the weddings that I officiate. I have observed a number of young ladies in our fellowship who have dressed modestly all their lives appearing on their wedding day in extremely provocative dresses, exposing more of themselves than on any other day of their lives.
I assume the best about what is going on in the hearts of these young women. I don't think that they went to the wedding dress shop determined to be provocative. No doubt, they just wanted a dress that would be elegant on this day that they have dreamed of all their lives. When a bride and mother set out on their expedition to find a wedding dress, they are, quite naturally, thinking like… women! Unfortunately, there is no one in the shop who is thinking like a man! I'd like to make a radical proposal, girls. Why not take your father with you to the wedding boutique? If that thought is just too much for you (or your Dad!) at least consider taking the dress out on approval and allowing your dad to see it before you make your final purchase.
Here are a couple of questions to ask yourself when shopping for a wedding or bridesmaid's dress:

1. Does this dress reflect the fact that a wedding ceremony is a holy service of worship and not a fashion show?
Article Page Break Here
2. Can I picture myself standing in this dress, for an extended period of time, just a few feet from my pastor as he opens the Word of God and leads me in my solemn vows?
Pastor Todd Murray isn't the only one concerned about immodesty at weddings. I know the pastors of my church share this concern as well.
Having three married daughters, I know the challenges involved in finding modest wedding attire. However, with a lot of time and effort, it can be done! As Todd mentioned, the dad's role is crucial in this process. CJ helped our girls by providing guidelines for appropriate bridal wear and giving final approval to their choices. Quite simply, the standard of modesty and self-control didn't change. Here are some criteria CJ gave to the girls:
1. Find a wedding dress with a neckline that completely conceals any cleavage.
2. Avoid dresses without sufficient covering in the back.
3. Strapless gowns or dresses with only spaghetti straps are revealing and thus do not serve the men in attendance at your wedding.
4. A modest gown should not be excessively tight and draw unnecessary attention to your figure.
We hope these specifics assist you in evaluating modest bridal and evening attire. However, please be on guard against the temptation to be self-righteous toward those who choose differently. If you think a bride is dressed immodestly, her wedding day is not the appropriate occasion to comment on her dress! Simply rejoice with her in the goodness of God displayed in her marriage.
And if you are preparing to get married, we hope these thoughts serve you in your effort to plan a ceremony that brings glory to God. May He give you much joy on that special day!
Originally posted on CW in June 2008
---
This article was adapted from "Girl Talk" - a
blog
kept by Carolyn and her three daughters for women in all seasons of life.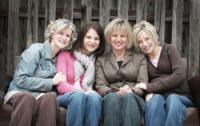 Carolyn Mahaney is a wife, mother, homemaker, and the author of Feminine Appeal: Seven Virtues of a Godly Wife and Mother, Girl Talk: Mother-Daughter Conversations on Biblical Womanhood and Shopping for Time: How To Do It All and Not Be Overwhelmed (written with her daughters). During her more than 30 years as a pastor's wife, Carolyn has spoken to women in many churches and conferences, including those of Sovereign Grace Ministries, which her husband, C.J., leads. C.J. and Carolyn have three married daughters and one sixteen-year-old son, Chad.
Nicole Whitacre is the oldest daughter of C.J. and Carolyn Mahaney, as well as a wife, mother, and homemaker. She assisted her mother with Feminine Appeal, and is the senior writer for Girl Talk. Nicole and her husband Steve—who is a youth pastor at Sovereign Grace Church—have a son Jack, age 6, and a daughter Tori, age 2.
Kristin Chesemore and her husband Brian are the busy parents of three boys. Andrew is 9, Liam is 6, and Owen is 5. In the little spare time she does have, Kristin supports Brian in his role as a Married Life pastor at Covenant Life Church.
Janelle Bradshaw has been married to her husband Mike, and they have beautiful daughters Caly, age 3 and MJ, 8 months. Mike serves as Pastor of Children's Ministry at Covenant Life Church.
Pictured above, left-right: Janelle, Kristin, Carolyn, and Nicole