December 3
God's Most Precious Treasure
"You were bought with a price, do not become slaves of men."
I Corinthians 7:23
What price could we place on a soul? God placed the highest price that could ever be paid. He placed a price tag upon you that read, Cost: My only begotten Son! Many women, including myself, at times have struggled with self-worth. We lose our brightness as it fades slowly, often times in the presence of difficult circumstances, pressures of life, tragedies or even in the light of others. We often set our value rating on the opinions of others, how well we are liked, or what we look like. Worth doesn't come from others and it isn't found within, beloved, despite what the New Age movement is teaching. True worth is only found in Jesus! When you grasp this truth, precious one, I mean really lay hold of it, you will understand just how valuable you are in eyes of heaven.
I Peter 1:18-19 tells us, "…knowing that you were not redeemed with perishable things like silver or gold from your futile way of life inherited from your forefathers, but with precious blood, as of a lamb unblemished and spotless, the blood of Christ." Do you know this? Your life has immeasurable worth because Jesus paid the highest price that could ever be paid just so you could be completely His. He purchased you because you are most precious to Him and He longs to have you with Him for all of eternity. What a treasure you are woman of value, daughter of the King, heir to the throne of grace.
It's not the our ability to connect with the "power found within", or "the power of positive thinking", that will give your life meaning and purpose. It's only when Jesus is found within you that you will have real power, true thinking and value far beyond any price this earth could pay. Don't cheapen yourself by selling out for worldly philosophies that are wrought from the flesh and will never yield spiritual increase in your life. God's opinion is the scale, upon which, our worth is accurately weighed. Everything else is meaningless.
My Worth Is Immeasurable Because of Jesus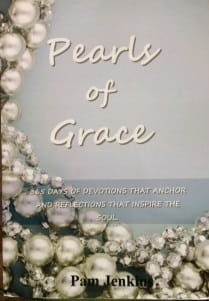 Pearls of Grace Devotional Book
Pearls of Grace is a book of devotions for the entire year, including a read through the Bible in a year calendar, broken down for every day. Beautifully written with encouraging words of hope and empowering words of joy and strength for every woman. Pam draws from the truth and richness of God's Word and gives real life examples in her down to earth style. A must have in your library, click here for more information.
For more from Pam Jenkins and Jabbok Ministries, please visit www.jabbokministries.com!
Listen to Pam Jenkins's daily broadcast on OnePlace.com.