Because he has set his love upon Me, therefore I will deliver him . . .he shall call upon Me and I will answer him. (Psalm 91:14a, 15a)
Now God speaks from His "secret place" because the person who dwells in Him, He will deliver. Out of this intimacy, the Christian will experience vital, life-giving prayer.
Jesus
told His disciples, "If you (dwell) in me, and My words abide in you, you will ask what you will, and it shall be done for you" (John 15:7). The person who abides under the shadow of the Almighty knows these reassuring truths:
• God's presence (on high)
• God's power (I will answer)
• God's protection (I will deliver)
• God's provision (I will satisfy him).
---
Be challenged by Romans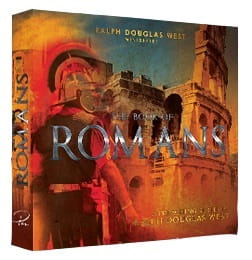 Romans doesn't let us sit still. In Romans, Paul talks about the obligation we are under to spread the truth of the Gospel and to engage with the culture around us. He talks about the journey we must make after we accept the God's gift of salvation. We are called to leave our comfortable and easy corners and spread the message of Christ's sacrifice to everyone around us, because we have been freely justified!