. . . And into His courts with praise. (Psalm 100:4)
What if we called for an ID card before people could come into the church? What would it be? A membership card?  A
Bible
with your name on it? Your stewardship record? What should be the visible, audible identification of a blood-washed, blood-bought believer when he or she comes to worship? The psalmist says it should be the believer expressing gratitude and thanksgiving in the form of praise to the living God. There is a call to praise God, not in relation to what He is to us, but what He actually is—in His own character that never changes. 
---
Be challenged by Romans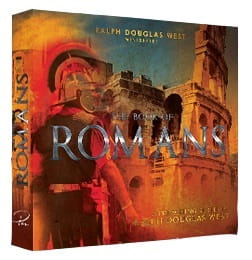 Romans doesn't let us sit still. In Romans, Paul talks about the obligation we are under to spread the truth of the Gospel and to engage with the culture around us. He talks about the journey we must make after we accept the God's gift of salvation. We are called to leave our comfortable and easy corners and spread the message of Christ's sacrifice to everyone around us, because we have been freely justified!