"Por la palabra de Jehová fueron hechos los cielos; y todo el ejército de ellos, por el aliento de su boca. Él junta como montón las aguas del mar; él pone en depósitos los abismos. (Salmo 33:6-7 RV).
He estado meditando mucho últimamente sobre lo absolutamente imponente que es Dios, y los versículos de arriba lo demuestran claramente, ¿verdad? Servimos a Dios quien por medio de Su palabra trajo el cielo a su existencia, y con Su aliento las estrellas en los cielos, junta las aguas en sus límites adjudicados, y cierra con llave las profundidades de los océanos como en una represa. ¡No importa cómo se mire todo esto, es impresionante!
Sabiendo esto, ¿cual debe de ser nuestra respuesta? Según el versículo 8 del Salmo 33, todos los habitantes de la tierra deben "temer al Señor" "y tener mucho respeto hacia Él. "¿Pero es esto lo qué por lo general pasa? A veces. Sin embargo, más a menudo lo que pasa es que "los habitantes de la tierra" ponen poca atención a este Dios imponente y, en cambio, adoran Su creación.
No me juzguen incorrectamente. Amo los océanos y las montañas, los árboles y las flores, las aves y los peces y los animales. Pero todo eso son creaciones, magistralmente trabajadas por Aquel quién con Su aliento sobre el polvo de la tierra formó al hombre y le dio vida. ¿No es una maravilla que Él sostiene nuestras vidas en Sus manos? ¿No debería ese mismo pensamiento hacernos temblar, justo aún cuando nos alegremos de lo misericordioso y bondadoso que es Él?
Cuando nos movemos a una temporada de Acción de Gracias y luego la celebración de la llegada de Cristo a la tierra como un bebé en un pesebre, nosotros podemos apreciar todas las creaciones de Dios — pero debemos de adorarlo sólo a Él. Nosotros podemos, como el salmista ha declarado, "temer al Señor" "y tener mucho respeto hacia Él" (Ver Salmo 33:8, NKJV). No hay nada que puede poner nuestras propias vidas en una perspectiva más rápida o más clara que el reconocimiento de lo imponente que es Dios.
***
By the word of the LORD the heavens were made, And all the host of them by the breath of His mouth. He gathers the waters of the sea together as a heap; He lays up the deep in storehouses (Psalm 33:6-7, NKJV).
I've been meditating a lot lately on the absolute awesomeness of God, and the verses above capture that so clearly, don't they? We serve a God who spoke the heavens into existence, breathed the stars into the skies, gathers the waters into their assigned boundaries, and locks the depths of the oceans into reservoirs. No matter how you look at it, that's impressive!
Knowing this, what is our response to be? According to verse 8 of Psalm 33, all the inhabitants of the earth are to "fear the Lord" and "stand in awe of Him." But is that what usually happens? Sometimes. More often than not, however, the "inhabitants of the earth" pay little if any attention to this awesome God and, instead, worship His creation.
Don't get me wrong. I love the oceans and the mountains, the trees and flowers, the birds and fish and animals. But they are all creations, masterfully crafted by the One who also breathed life into the dust of the earth and formed man. Is it any wonder He holds our lives in His hands? Shouldn't the very thought make us tremble, even as we rejoice that He is merciful and loving?
As we move into a season of Thanksgiving and then celebration of Christ's coming to earth as a Babe in a manger, may we appreciate all of God's creations—but may we worship only Him. May we, as the psalmist declared, "fear the Lord" and "stand in awe of Him" (Psalm 33:8, NKJV). There is nothing that can put our own lives in perspective quicker or clearer than recognizing the awesomeness of God.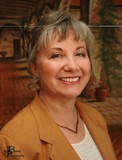 Kathi Macias, popular speaker and prolific author, is an Angel-award winning writer who has published nearly thirty books, including her latest releases, Mothers of the Bible Speak to Mothers of Today (New Hope Publishers) and My Son John (a novel from Sheaf House). Whether keyboarding her latest book, keynoting a conference, or riding on the back of her husband's Harley, Kathi "Easy Writer" Macias is a lady on a mission to communicate God's vision. Her insightful words—filled with passion, humor and soul nourishment—refresh audiences from all walks of life. Join Kathi as she hosts "Write the Vision" every Thursday from 6—7 p.m. (Pacific Time) via THE International Christian Network (www.theicn.com). To learn more about Kathi or to book her for your next event, visit www.KathiMacias.com. Spanish translations by Cynthia Alcantara ([email protected]).