Death Be Not Proud [Part 2]
Are you ready for some good news?
Death must bow down and yield its pride in light of the gospel. For the Christian, death is a doorway to your true Home.
Today's Text: "Since therefore the children share in flesh and blood, [Jesus] himself likewise partook of the same things, that through death he might destroy the one who has the power of death, that is, the devil, and deliver all those who through fear of death were subject to lifelong slavery." Hebrews 2:14-15
Deep in the soul, hidden beneath a thousand elaborate systems of denial, humanity from the time that Adam and Eve ate that fruit has been afraid of dying. But Jesus came to defeat death, that final enemy, and to replace any fear of death in the Christian heart with an assurance of Heaven.
Christians, this is the affirmation of the gospel. If you were to die today, you would go immediately into the presence of God. At the moment of your death, it will not be frightening. Angels will attend to you.
As I have observed while standing by the bed of so many as they were dying, you may be given visions of Heaven that other people cannot see. And you will find that dying is like falling asleep and waking up. You will be as a child who has fallen asleep in a car on the way home and taken to his bed, never waking up until the next morning and realizing, "I'm at home!"
You will be Home. You will be in the comfort of Jesus' arms and in the joy of everlasting praise and worship of God. You will be with your family, your BIG family of faith. You will be you, but glorified.
We will experience beautiful and rich community. We will know each other, love each other, understand each other. We will grow and continue to learn together. We will enjoy God together. It is all above and beyond what we could ask or think.
Think often of your home in a new Heaven and a new Earth and surrender your heart to the Holy Spirit, asking for every reassurance of that future as a child of God. In so doing, you are liberated from the fear of death, free finally to really live. And that's the gospel!
---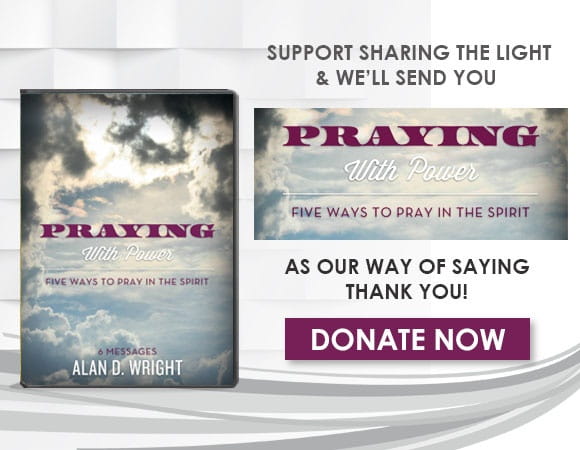 For more information please visit SharingtheLight.org.
Listen to the latest broadcast on OnePlace.com.