Imago Dei [Part 2]
Are you ready for some good news?
You're made in the image of God, which means, in the first place, you are person just as God is a person.
Today's Text: "Then God said, "Let us make man in our image, after our likeness. And let them have dominion over the fish of the sea and over the birds of the heavens and over the livestock and over all the earth and over every creeping thing that creeps on the earth." So God created man in his own image, in the image of God he created him; male and female he created them." (Genesis 1:26–27, ESV)
In The Case for a Creator, author Lee Strobel shares an illustration from an interview with a scientist that aptly describes the marvel of human personhood.
"I remember the time when my daughter was in the fifth grade and we were having family prayers. She said, 'Dad, if I could see God, it would help me believe in him.' I said, 'Well, honey, the problem isn't that you never see God. The problem is that you've never seen your mother.' And her mother was sitting right next to her!
My daughter said, 'What do you mean, Dad?' I said, 'Suppose without hurting your mom, we were able to take her apart cell by cell and peek inside each one of them. We would never come to a moment where we would say, 'Look-here's what Mommy's thinking about doing the rest of the day.' Or 'Hey, this cell contains Mommy's feelings.' Or 'So this is what Mom believes about pro football.' We couldn't find Mommy's thoughts, beliefs, desires, or her feelings.
Guess what else we would never find? We'd never find Mommy's ego or her self. We would never say, 'Finally, in this particular brain cell, there's Mommy. There's her ego, or self.' That's because Mommy is a person, and persons are invisible. Mommy's ego and her conscious life are invisible. Now, she's small enough to have a body, while God is too big to have a body, so let's pray!" [1]
You are a "person" – an invisible soul with unique emotions, thoughts and desires – because God is a Person. You're like God because He made you in His own image. It means that you are infinitely complex and valuable. It means that you matter more than words can tell. It means that you have more in common with God than you realize. And, the more you realize how glorious it is to be made in the image of God, the more you will want to aptly represent Him on the earth. And that's the Gospel!
---
[1] Lee Strobel,The Case for a Creator: a journalist investigates scientific evidence that points toward God (Grand Rapids: Zondervan, 2004). 170.
---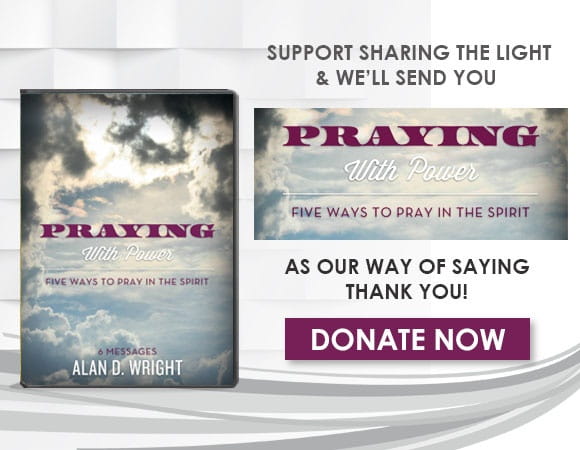 For more information please visit SharingtheLight.org.
Listen to the latest broadcast on OnePlace.com.