Valuable Adversity [Part 1]
Are you ready for some good news?
Sometimes the difficulty you face is a blessing in disguise from God! Looking backward with eyes of faith, you can discover your God moments of Valuable Adversity.
Today's Text: "And the Lord spoke to Moses, saying, "Speak to the people of Israel, saying, On the fifteenth day of this seventh month and for seven days is the Feast of Booths to the Lord." (Leviticus 23:33–34, ESV)
God established the Feast of Booths in the rhythm of Israel's calendar so that His people would always remember His mercy during their times of adversity. Even the wealthiest Israelite, once a year, would spend a week living in an humble, leafy shack to remember that, even when times seem their worst, God is with us.
Have you ever had a moment of pain that, later, you realized was a magnificent blessing?
Some years ago, Golf Digest ran a series of articles called "Golf Saved My Life." The series featured golfers telling stories about how much golf has meant in their lives (sort of golf testimonies, ha!). The article by Kathleen Murphy was unforgettable.
She was 58 at the time of the "golf moment". Kathleen decided to take a break from the stress of preparing for her son's upcoming wedding and went to walk the course at her country club in Illinois with her good friends. When Kathleen's foursome came to the second shot of the long par four sixteenth hole, she was the first to play. She hit her trusty 3-wood to the right of the green and decided to walk ahead of the others to start looking for her ball in the rough. Lois Burns played next. Lois shanked her 3-wood hard right and struck Kathleen directly in the back of the head. Kathleen said it felt like an explosion. Fortuitously, the hospital was just down the street so her playing partners delivered her there by golf cart.
The CAT scan and MRI showed, thankfully, that there was no fracture in her skull, but the doctors were terribly puzzled. Had she not been having headaches or feeling dizzy in recent months?
Turns out Kathleen had an apple-sized tumor in the right side of her brain that doctors estimated had been growing for about 15 years and would likely have soon caused a stroke. Instead, Kathleen underwent successful surgery and was well enough to walk the aisle to her rightful seat at her son's wedding.
Getting beaned in the head with a Titleist isn't something Kathleen would have ever asked for, but it saved her life. Sometimes a great adversity can be the best gift imaginable. If you look back on the hard times, you'll see that God has been there too. And that's the Gospel!
---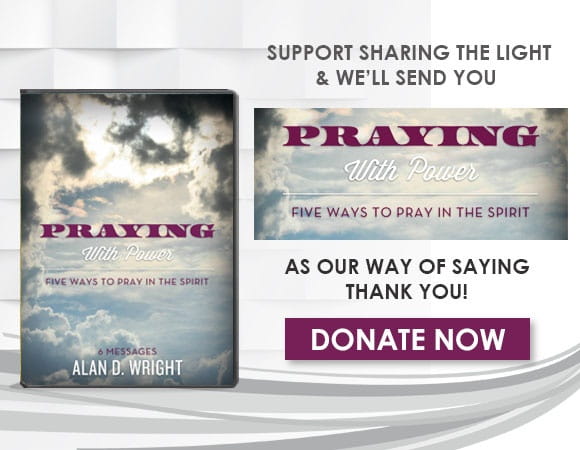 For more information please visit SharingtheLight.org.
Listen to the latest broadcast on OnePlace.com.