You're a Priest, So Go Ahead, Eat the Holy Bread [Part 2]
Are you ready for some good news?
In Christ, you're the new priesthood!
Text: "He said to them, "Have you not read what David did when he was hungry, and those who were with him: how he entered the house of God and ate the bread of the Presence, which it was not lawful for him to eat nor for those who were with him, but only for the priests?" - (Matthew 12:3–4, ESV)
When the Pharisees quizzed Jesus about the "unlawfulness" of His disciples plucking
heads of grain to eat on the Sabbath, Jesus referred His accusers back to the story of David and his men eating the Bread of the Presence that was supposed to be eaten only by the priests. Jesus invoked one of His favorite prophetic verses from Hosea: "And if you had known what this means, 'I desire mercy, and not sacrifice,' you would not have condemned the guiltless" (Matthew 12:7).
When my wife's Uncle Stanley was a boy, he and his brother sneaked into Mrs. Johnson's backyard and stole some green apples off her tree. They were gripped with fear when they heard the old woman's voice: "Boys, what are you doing there? Come in this house this instant!" Mrs. Johnson sat the boys at the kitchen table and told them to wait there as she left the room. Stanley knew Mrs. Johnson was going to call his father, the chief of police. It would be awful. But Stanley was wrong. What happened next changed young Stanley's life.
Mrs. Johnson came back with a big bowl of bright, red, store bought apples. "Now boys" she said, "those green apples on my tree are no good. They're sour and wormy. Have some of these red apples. They're sweet and juicy, fresh from the market. Any time you want a good apple, just let me know." Stanley couldn't believe his ears. He'd never had a store bought apple before. Stanley told me that was the day he learned what grace meant.
Stanley and his friend never stole apples from Mrs. Johnson or anyone ever again. They didn't want to steal apples. Mrs. Johnson's grace did not just restore the relationship ("I won't call your parents"), but it said: "I'm going to so satisfy you that you will lose your desire to steal sour apples. I'm going to show you a greater delight." The power of transformation for your life is never found in the law, but grace can change everything. I think that's what Jesus meant by quoting Hosea, "I desire mercy, not sacrifice." God has never been moved by our sacrificial acts of righteousness; He's moved by His own love. Law condemns but grace transforms. And that's the Gospel!
---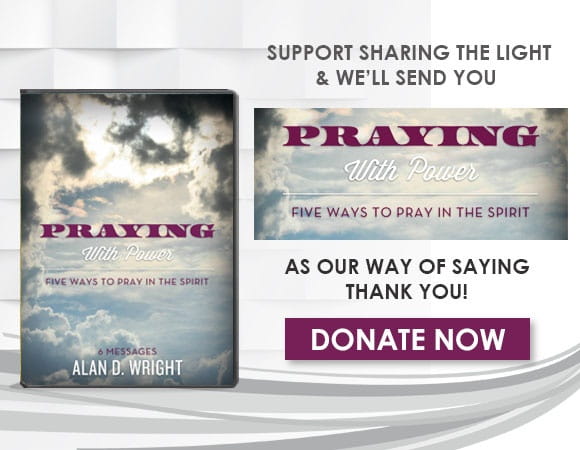 For more information please visit SharingtheLight.org.
Listen to the latest broadcast on OnePlace.com.