You're a Child of Light [Part 1]
Are you ready for some good news?
If you're in Christ, God's wrath is gone. You can be sure. God's not mad at you.
Today's Text: "Therefore do not become partners with them; for at one time you were darkness, but now you are light in the Lord. Walk as children of light…." (Ephesians 5:7–8, ESV)
Christians and non-Christians hold this in common – they're both bothered by the notion of God's wrath. In Ephesians 5, Paul says the "wrath of God comes upon the sons of disobedience" (v. 6). He then exhorts Christians, "Do not become partners with them, for at one time you were darkness but now you are light in the Lord" (v. 7-8). In order to read a text like this properly, it requires understanding of what the Bible is all about in the first place.
Many Christians (and preachers) presume the Bible to be a sort of owner's manual for a human being. While there is, of course, much wonderful instruction in the Bible, God's Word is actually one big story. The individual texts (like ours in Ephesians 5) must be interpreted in light of the big story of redemption. Imagine pulling lines or passages out of the Cinderella story without placing them in the midst of the whole narrative. You could conclude that the story is about taking on menial servanthood without complaint or that the real purpose of pumpkins is to become carriages. But Cinderella is a story of love and how even the most unlikely can be exalted.
To read a text like Ephesians 5 where Paul mentions the wrath of God and then conclude that God is full of wrath is ridiculous if you know the whole story of the Bible. From other texts and from the whole big story, you can only conclude one thing: God is love. He is, in fact, slow to anger. To understand God's wrath properly, you have to understand the love story of the Bible. When a bridegroom loves a bride deeply, he cannot turn a blind eye to her adultery. If the husband isn't bothered by the wife's betrayal, we would question the husband's love. God's wrath is against the sons of disobedience because He loves them too much to simply not care.
When you accept Christ, God is able to do what He has always wanted to do – love you unimpeded by your wrongdoing. Your sin and all of God's wrath is placed on Christ. You are no longer a "son of disobedience"; you are the righteousness of Christ. And that's the gospel!
---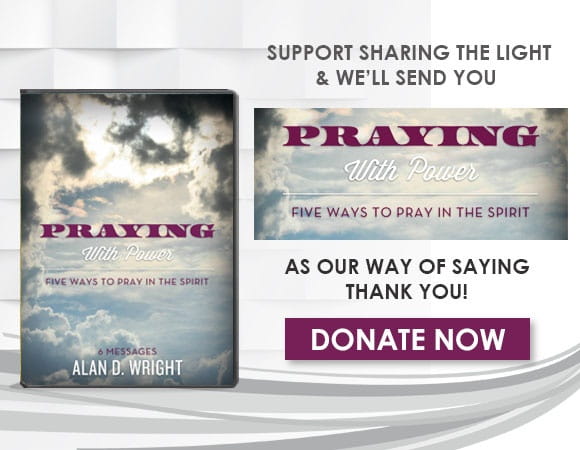 For more information please visit SharingtheLight.org.
Listen to the latest broadcast on OnePlace.com.