Spiritual Exhaustion
by Berni Dymet
Gen. 3:17,18 And to the man he said, "Because you have listened to the voice of your wife, and have eaten of the tree about which I commanded you, 'You shall not eat of it,' cursed is the ground because of you; in toil you shall eat of it all the days of your life; thorns and thistles it shall bring forth for you; and you shall eat the plants of the field.
When we're tired, exhausted – all we tend to see is the human dimension. We're working too hard, or there's a relationship that's causing us stress. Or money worries. But what if they're only the symptoms of a much deeper spiritual malady.
Adam and Eve had a perfect existence; perfect work-life balance.  Everything was perfect until one day, they rejected God.  It wasn't a big thing, just that one lousy apple.
But that's when it all started to unravel. As God was dealing with Adam, this is what He said to him:
…cursed is the ground because of you; in toil you shall eat of it all the days of your life …
God wanted them to go in one direction, but they knew better. They did the exact opposite – and so, they spent the rest of their days pulling in the opposite direction to God. 
I mean imagine that – God's pulling in one direction, and we're pulling in the other. That's got to be exhausting!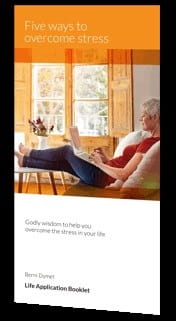 Your FREE eBooklet - "Five Ways to Overcome Stress"
The alleviation of stress is the number one felt need in society today. More than a half of all visits to the doctor are stress related. How about you? On a scale of zero to ten, how "stressed out" are you? There will always be pressures in life. That's a given. But stress is actually our response to those pressures and as such, it's something that, with God's help, we can overcome. That's what our latest Life Application Booklet is all about: Five Ways to Overcome Stress. We would absolutely love to send you your very own FREE copy to help you experience God's peace, in the middle of the pressures in your life.