Fashionable Beliefs 
by Berni Dymet
Romans 8:28 We know that all things work together for good for those who love God, who are called according to his purpose.
It's funny how some things that Christians believe seem old fashioned. Like not sleeping together before marriage. I mean really!
When my wife Jacqui and I met, we were in our late 30's. And just quietly, she's gorgeous. And at that age, it would have been the easiest thing in the world to "shack up" together. 
Especially since when we bought our house three months before our wedding, we couldn't afford to pay both the mortgage on the new house and the rent on the my apartment. What do you do?
Well, Jacqui moved into the new house and I asked around in our church. Get this. A retired couple, Ken and Jean, were planning a tour of Europe. They'd booked the tickets months before. They were scheduled to leave the day that our house settled and their return date? Five am on the 18th of October. The morning of our wedding. And yes, they were delighted to have me mind their house for free.
Now go on - go on tell me that's old fashioned. Tell me God wasn't in that.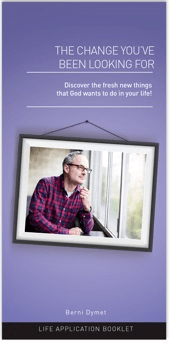 Your FREE eBooklet - "The Change You've Been Looking For"
So many people yearn for a better life, which is why "self-improvement" is a multi-billion dollar industry. But the truth is, it doesn't work, because the big changes, the truly important changes, are impossible to achieve on your own. That's why Jesus came. So if you want to lay hold of the "super-abundant" life that He promised (John 10:10) download this free eBooklet, because that's what it's all about. The change you've been looking for!