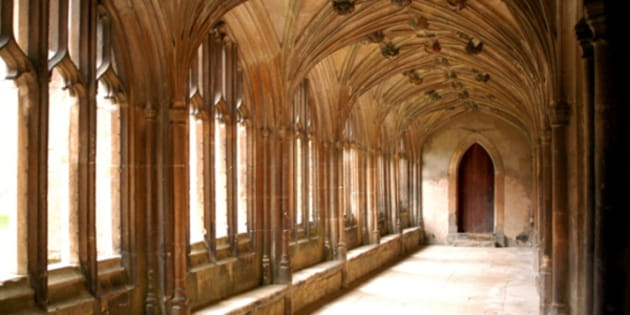 "I always thought of Dumbledore as gay," said author J. K. Rowling about Albus Dumbledore, one of the good guys in all seven of her harry potter novels.
Unlike the way he is portrayed in the movies, Dumbledore is neither bumbling nor weak. He is commanding, authoritative, strong, sure, and only defeated by superior forces, never inferior ones. Dumbledore didn't die because he made mistakes or because he absentmindedly mismanaged some magic. He died because he laid down his life, playing his appointed part in the outworking of a grand providential plan into which he had remarkable insight.
How do we deal with the information that Rowling has given us? How do we respond to her declaration that she thought of him as gay?
This calls for wisdom.
We should ask, I think, at least two questions: (1) what does Rowling show us of Dumbledore's conduct as it relates to homosexuality/same-sex desire, and (2) what is it that makes Dumbledore a hero? Let's start with the second first.
Is Dumbledore a hero because he has decided that the desires he feels must be right? Has he concluded that his appetites are to be gratified? Has he chosen what he wants over what he deems right? Has he chosen what is easy or what is true and good? Has he done whatever he wanted to do without concern for how it affects other people? Does he advocate that his impulses, his freedom, and his right to do whatever he wants to do matter more than any consideration of traditional morality or societal standard? Does he demand the right to throw off moral norms and be considered righteous by everyone?
The answers to these questions are obvious to anyone who has read the fabulous harry potter stories. Dumbledore is a hero not because he has thrown off Christian morality and Christian conceptions of what is good and true and beautiful but because he has embraced them. Dumbledore is a hero because he selflessly opposes evil—moral evil—and the definition of moral evil in the Potter stories corresponds to the definition of moral evil in the Bible. Dumbledore is heroic because he is Christ-like.
There is a character in the Harry Potter stories who has moved beyond traditional morality, who has decided that his appetites are to be gratified, that what he deems right is what must be true, that what he wants he will have without respect for the way it harms others. This character says that there is no good and evil, only power. There is a character who chooses that path, but his name is Voldemort not Dumbledore.
I would suggest, then, that Dumbledore's same-sex attraction does not take away from our conception of him as a hero but adds to it because it shows us one more way in which Dumbledore has crucified evil, selfish, fleshly desires for the sake of what is morally true, ethically right, lovingly beautiful, and in every way good.
Skeptical of my interpretation of Rowling's intentions? Need proof? Let's move from the second question to the first: what does Rowling show us of Dumbledore's conduct as it relates to homosexuality/same-sex desire. We'll answer this question at two levels: on the surface, then under the surface.
On the surface, Rowling shows us nothing of Dumbledore's same-sex attraction. That's why people were shocked when she announced it. Observe: Dumbledore never overtly declares that he is gay. He never says or does anything to identify or define himself in those terms or by his own desires. Dumbledore never evidences a desire for a day when people's conception of what is "moral" will be different so that he can pursue his impulses without social stigma. Dumbledore never encourages anyone to "transcend" moral norms of acceptable sexual orientation. In fact, I contend that Dumbledore would view that not as transcendent but astransgression, and this is precisely what makes him heroic.