Tuesday, November 25, 2014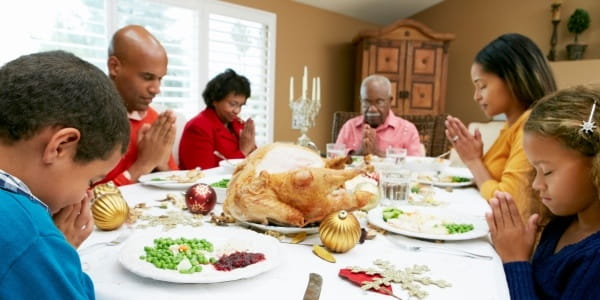 "Thanksgiving may be the last religious holiday still widely celebrated for its true meaning. While our post-Christian culture has all but divorced Christmas from the Incarnation and Easter from the Resurrection, this last holdout—this simple ritual of gratitude—is still hanging on."
-Jayme Metzgar: "Here's The Difference Between Feeling Thankful And Thanksgiving"
As we celebrate the Thanksgiving holiday, it's easy to become busy with all there is to do. Yet when we finally slow down and count our blessings, keep in mind what Jayme Metzgar points out in her article at The Federalist: it's not really thanksgiving to just feel thankful. (Sorry, Oprah.) As admirable as it may be to routinely practice the habit of gratitude, genuine thanksgiving requires an object. It requires someone to whom we are thankful.
Metzgar writes: "While gratitude based on temporal things will eventually fail us, thanksgiving is an act of communion with the eternal God. As such, it anchors us to something that will last forever."
The early settlers of Plymouth Plantation, indeed, rejoiced over their good harvest. But material blessings weren't the source of their gratitude. Historian Tracy McKenzie writes of them...
When the Pilgrims thought of themselves as "pilgrims," they meant that they were temporary travelers in a world that was not their home. This is clear from the context in which Governor William Bradford used the term in his famous history of the colony, Of Plymouth Plantation. Toward the middle of book one, Bradford movingly described the departure from Holland, as the members of the Leiden congregation who were leaving for America said goodbye to the friends and loved ones remaining behind. With "an abundance of tears," Bradford wrote, the group left "that goodly and pleasant city which had been their resting place near twelve years; but they knew they were pilgrims, and looked not much on those things, but lift up their eyes to the heavens, their dearest country, and quieted their spirits."
Your turn: What about you? Are you merely feeling thankful this Thanksgiving, or can you give thanks to the One from whom all blessings flow?

Alex Crain is the editor of Christianity.com.You can follow him on Twitter @alex_crain.