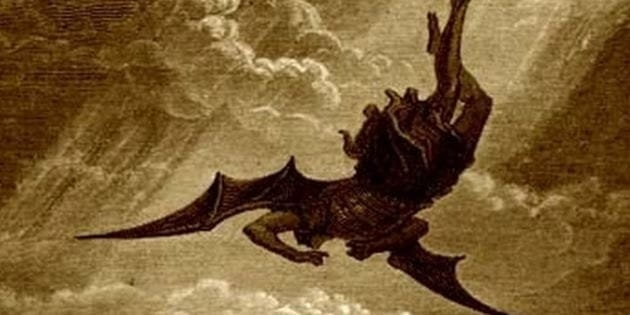 The story of Lucifer's fall is described in two key Old Testament chapters—Ezekiel 28 and Isaiah 14. Let's briefly look at both of these.
It would seem from the context of Ezekiel 28 that the first ten verses of this chapter are dealing with a human leader. Then, starting in verse 11 and on through verse 19, Lucifer is the focus of discussion.
What is the rationale for the conclusion that these latter verses refer to the fall of Lucifer? Whereas the first ten verses in this chapter speak about the ruler of Tyre (who was condemned for claiming to be a god though he was just a man), the discussion moves to the king of Tyre starting in verse 11. Many scholars believe that though there was a human "ruler" of Tyre, the real "king" of Tyre was Satan, for it was he who was ultimately at work in this anti-God city and it was he who worked through the human ruler of the city.
Some have suggested that these verses may actually be dealing with a human king of Tyre who was empowered by Satan. Perhaps the historic king of Tyre was a tool of Satan, possibly even indwelt by him. In describing this king, Ezekiel also gives us glimpses of the superhuman creature, Satan, who was using, if not indwelling, him.
Now, there are things that are true of this "king" that—at least ultimately—cannot be said to be true of human beings. For example, the king is portrayed as having a different nature from man (he is a cherub, verse 14); he had a different position from man (he was blameless and sinless, verse 15); he was in a different realm from man (the holy mount of God, verses 13,14); he received a different judgment from man (he was cast out of the mountain of God and thrown to the earth, verse 16); and the superlatives used to describe him don't seem to fit that of a normal human being ("full of wisdom," "perfect in beauty," and having "the seal of perfection," verse 12 NASB).
Our text tells us that this king was a created being and left the creative hand of God in a perfect state (Ezekiel 28:12,15). And he remained perfect in his ways until iniquity was found in him (verse 15b). What was this iniquity? We read in verse 17, "Your heart became proud on account of your beauty, and you corrupted your wisdom because of your splendor." Lucifer apparently became so impressed with his own beauty, intelligence, power, and position that he began to desire for himself the honor and glory that belonged to God alone. The sin that corrupted Lucifer was self-generated pride.
Apparently, this represents the actual beginning of sin in the universe—preceding the fall of the human Adam by an indeterminate time. Sin originated in the free will of Lucifer in which—with full understanding of the issues involved—he chose to rebel against the Creator.
This mighty angelic being was rightfully judged by God: "I threw you to the earth" (Ezekiel 28:18). This doesn't mean that Satan had no further access to heaven, for other Scripture verses clearly indicate that Satan maintained this access even after his fall (Job 1:6-12; Zechariah 3:1,2). However, Ezekiel 28:18 indicates that Satan was absolutely and completely cast out of God's heavenly government and his place of authority (Luke 10:18).