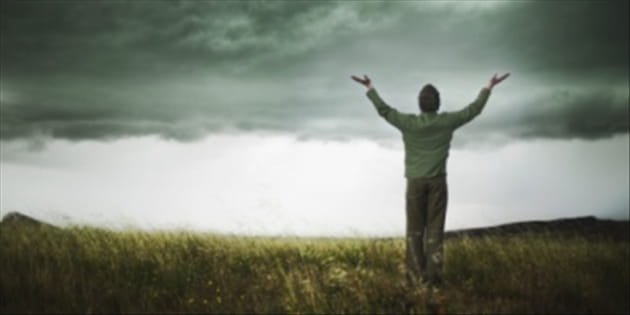 "Oh come, let us worship and bow down; let us kneel before the LORD, our Maker!"
"Worship is:
the submission of all our nature to God.
It is the quickening of the conscience by his holiness;
the nourishment of mind with his truth;
the purifying of the imagination by his beauty;
the opening of the heart to his love;
the surrender of will to his purpose.
And all of this gathered up in adoration,
the most selfless emotion of which our nature is capable,
and therefore the chief remedy
of that self-centeredness
which is our original sin
and the source of all actual sin."
--William Temple, Archbishop of Canterbury, 1942-1944
A few weeks ago during a question and answer period at Gull Lake Ministries in Michigan, I was handed a piece of paper with a simple statement. "Please give us your definition of worship." As I prepared to give an answer, I was trying to recall the famous words of William Temple quoted above. Since I didn't have it on the tip of my tongue, I simply said, "Worship is the response of all that we are to all that God is." As I thought about it later, I realized that even though much could be added to that sentence, it will do tolerably well as a starting point. When we worship, we are responding in some way or other to who God is.
Worship matters because God matters. A few days ago we received a letter from an inmate in a Maryland jail. Matthew is 22 years old and is currently awaiting trial. "I spent a childhood in crime and drug use." Now he is jail facing an uncertain future. But being in jail has brought him to a new sense of purpose in his life. He has discovered the reality of faith in the Lord Jesus Christ. This is how he puts it:
Everything should be focused on Jesus. For me to rely on him for everything. Nothing I do. Nothing can I do. Nothing to come compares to what the Lord has already accomplished. Without the Lord Jesus I'll never be satisfied. Nothing in this world satisfies me. Not women, drugs, money, material things, nothing. I'm always left to feel empty but when I look to the Lord Jesus, I begin to feel whole.
In his own way, in words that speak with homespun eloquence, he has discovered the opening of the heart by God's love that William Temple mentioned. Can you worship in a jail cell? Matthew would answer yes, and so would I.
To frame the matter this way helps because when Christians talk about worship, they often restrict it to what happens when the church gathers on Sunday morning. Obviously that corporate aspect is central to everything the church is to do in the world. Without the worship of God at the center, the church eventually devolves into little more than a social club or a debating society or a random collection of do-gooders who do nice things for others. That's a harsh way to put it but it is true nonetheless. We can even argue that the fundamental truth about a Christian is that he is a worshiper of God. To put it more plainly, Christians are people who gladly, freely and joyfully worship Jesus Christ. They adore him.

"Let's Pray About What to Pray About"
I confess that I know less about this subject than I would like to know. I came to a major turning point fifteen years ago when I visited the YWAM base perched on the banks of the Belmopan River, on the edge of the jungle in Belize in Central America. I spent a life-changing week with 25-30 missionaries and students who had come to study the Bible.
All my life I had heard that worship was to be the foundation of life, but I had never been around people who really acted that way. I discovered that when you are around people who know how to worship, your perspective begins to change. When you get around people who truly know how to make worship the central act of their Christian experience, nothing seems the same.