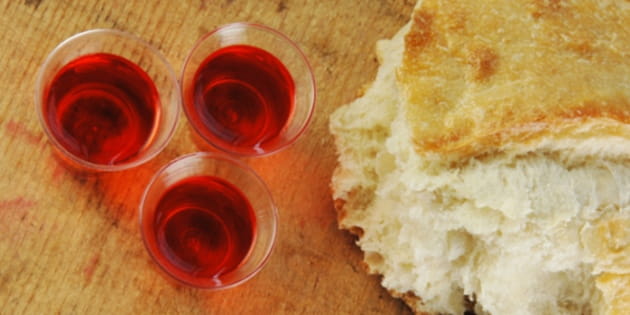 In a recent worship service in our church, I invited all "baptized believers" to join us at the Lord's Table. That prompted a question from several people: why say, "baptized believers?" Is baptism really a prerequisite for taking communion?
Of course, not all churches would answer this in the same way. But the majority of Christians throughout history have believed that only baptized people should participate in Eucharistic meal. I think it's a biblical position, and here's why.
Two Sacraments: Baptism and the Lord's Table
There are two sacraments given to the church, baptism and the Lord's Table, but these serve different functions.[1]
Baptism is a one time event that signifies:
• identification with Christ,
• initiation into the Christian faith, and
• entrance into the Christian church.
Lots of passages point this way, and I won't list them all, but think for example about the Great Commission (we are commanded to make disciples, baptizing them in the name of Father, Son, and Spirit – Matthew 28:19), or multiple references in Acts, where people are baptized in the name of Jesus (Acts 2:39, 8:16; 10:48), or the Epistles, where Paul speaks of being baptized into Christ and into the body (Gal. 3:27; Rom. 6:5). Consider especially 1 Cor. 12:13 where Paul says that by one Spirit we were all baptized into one body. In other words, baptism is what identifies someone with Christ and unites someone to the church. We also see this in Acts 2, where people repent, believe, and are baptized and thus are "added" to the church (Acts 2:38-41).
The Lord's Table, on the other hand, is an ongoing, repeatable event ("as often as you eat this bread and drink this cup do this in remembrance of me") that signifies:
• fellowship with Christ,
• continuance in the Christian faith,
• and unity with the Christian church.
This is especially clear in 1 Cor. 10:16-17, where Paul says, "The cup of blessing that we bless, is it not a participation in the blood of Christ? The bread that we break, is it not a participation in the body of Christ? Because there is one bread, we who are many are one body, for we all partake of the one bread." This shows us that communion involves both a special fellowship ("participation") with Jesus and symbolizes our unity with the "one body" of Christ ("we who are many are one body").
The Sequence: Baptism Precedes Communion
So, while baptism is an initial profession of faith, the Lord's Table is an ongoing, continual, and repeated renewal of faith. But isn't it dishonest for someone to participate in a renewal of faith, if they've never professed faith in baptism to start with?
Communion is also something of a pledge of renewed trust in Christ and obedience to him (which is one reason why Paul warns against eating or drinking unworthily in 1 Corinthians 1:27). But it would be pretense for someone to take communion when they have not even taken the first step of obedience to Jesus in baptism.
Then there's also the biblical pattern. The sequence is always baptism first, followed by communion. So in Acts 2, for example, it is only those who are baptized and added to the church in verse 41 who then participate in the breaking of bread in verse 42. In 1 Corinthians, when Paul talks at length about communion (in chapter 11), the assumption from earlier in the letter (chapter 1) is that he is writing to baptized Christians. There are no examples in Acts or the Epistles of unbaptized people taking communion.