November 25
O give thanks to the LORD, for He is good; For His loving kindness is everlasting. - 1 Chronicles 16:34
Divorce hurts all concerned. It especially hurts God's heart. Divorce interrupts the flow of love and kindness between two people. Many attempt an amicable separation, but it's hard to keep out the strife that ended the marriage in the first place. God never divorces His covenant people. We may wound His heart, and even pass through seasons when our ways aren't compatible with His, but He doesn't break off relationship. He works and waits patiently for our return because His lovingkindness is everlasting.
Click here to sign up for your free Winning Walk newsletter!
---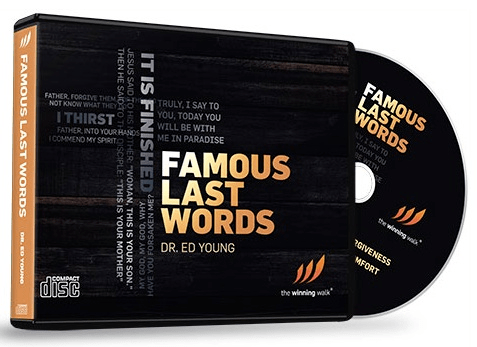 What people say in their final moments matters. And when those final words come from the most famous man in history, they hold deep meaning for every one of us.
Dr. Ed Young's 4-message series, 
Famous Last Words
, takes you to the foot of the cross where you'll find Christ's final words of encouragement and inspiration will guide you through your own dark times and provide timeless truth to hold onto for a brighter future.
Receive your copy of 
Famous Last Words
 when you donate below. Thank you for your support of The Winning Walk!