A Covenant of Jesus
 "… Then He said to them, "Follow Me, and I will make you fishers of men." - (Matthew 4:19)
At the starting gate of their relationship with Jesus, two sets of brothers who were professional fishermen entered into a covenant with Him. Like all covenants that covenant was in two parts. Jesus challenged them: "You follow Me – that's your part. I will make you – that's My part. You follow Me – that's your business. I will make you – that's My business."
When I was 18 years old a pastor shared the Gospel with me. When I told him I couldn't do what an authentic disciple of Jesus was required to do, he told me I didn't have to do it by myself. He told me about this covenant Jesus established with Peter and Andrew and James and John. I then made the commitment to follow Jesus and I entered into that same covenant. Next month I will be 80 years old and I have proven that if we will follow Jesus, He will make us. In other words, if we will keep our part of that covenant we certainly can trust Him to keep His part.
I strongly encourage you to consider entering into that same covenant with Jesus. You don't have to do all the things involved in following Jesus. Fact is you can't follow Jesus in your own strength or resources. Your part is to make the commitment to follow Him and then trust Him to do His part. He won't do your part and you can't do His part. But if you follow Him, He will make you whatever He is calling you to be. And if someone could show you what you will be doing in 20 years you won't believe it!

---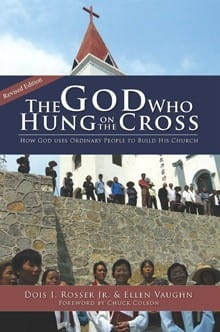 Free Book: The God Who Hung on the Cross
This newly revised paperback edition features reflections on 25 years in ministry by Dois Rosser. The book details the history and vision of ICM, the parent organization for the Mini Bible College, and the vehicle for distributing MBC to congregations around the world. Dois' story is an inspiration, encouraging Christians to give of their time and resources to experience the abundant power of God at work. Journey around the world with Dois and discover that you too can be a part of something bigger than yourself!